SICY Updated:2007-02-07 Text:Large / Medium / Small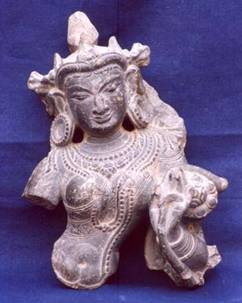 Bust of Tara
Sarnath
            9th –10th Century A.D.
            Sandstone
            19.2 x 12.8 x 8.1 cm
       Acc No. 4607
The image of Tara, carved in round, withprominent flexion, bears a smiling expression on her full radiantface.     Portions below her waist and righthand are missing.   The folds of sari bearingcombinations of incised geometrical motif of lozenges, wraps herupper part in sweeping flow.   She carries in herslightly raised left hand the stalk of an artistically conceivedutpala (lotus), the missing right hand should have been invarada-mudra. The goddess is richly adorned with bangles,armlets, a beaded hara, a broad necklace and beadedear-studs.  
The coiffure is elaborately done, with major partof the hair is gathered near her right shoulder, which is partiallydamaged.   The tiara has an attachment of threeconical     projections with a leaf-shapedfinial.   There is row of hair coils spread along theupper edge of the forehead.   On either side of the headis the projected ends of a ribbon.