SICY Updated:2007-02-07 Text:Large / Medium / Small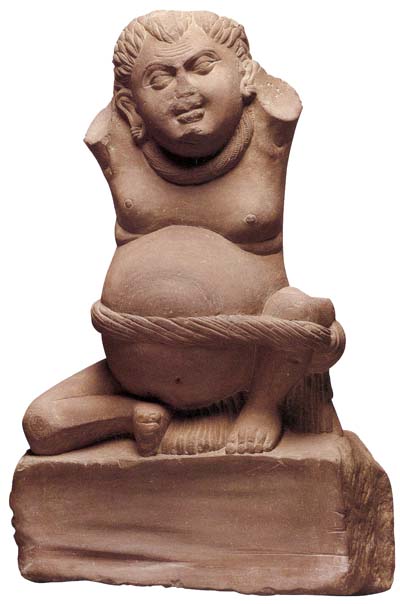 Ahichhatra
                   2nd century A.D.
                   Red Sandstone
                   Size 73 x 46 x 20 cm
                 Acc. No. 78.522
    

  Kubera the guardian of the northern quarter and the god of wealth appears to be extremely popular, and one who captured the attention of the Kushana artists.     This monolithic image of a corpulent divinity is seated in bhadrasana, on a high but plain pedestal. His pot belly is separate from the fat chest by a thin ripple of flesh visible on either side.   The body, hardly able to cope-up with the enormous weight, is bare, except for a short lower garment (dhoti). One end of the dhoti has been twisted and used as a sort of cloth girdle (udarabandha)   rounding the stumpy, upright left leg and his belly with a large girth; a personification of obesity and in an attitude of opulence.
His right ear shows an earring. The horizontal lines on the forehead (tripudra) indicate that the image is perhaps of Shaiva affiliation. The hair has been treated more like bunch of leaves partially spared over the forehead in a realistic manner.   Both arms are missing, but the position and the angle of the armpits indicate that this figure appears to be a Patravahaka yaksha, with both his arms raised and possibly carried a heavy bowl (patra) on his head.     The zest for life is indicated by his dreamy eyes, wide and gently parted lower lip and his rich necklace of twisted bands of pearls.

The figure is extremely expressive probably in the prime of his youth, speaks high of the artistic quality of the late Kushana art of Mathura.     The pedestal, upper part of the head and upper part of left thigh bear burnishing marks.