sicy Updated:2007-02-14 Text:Large / Medium / Small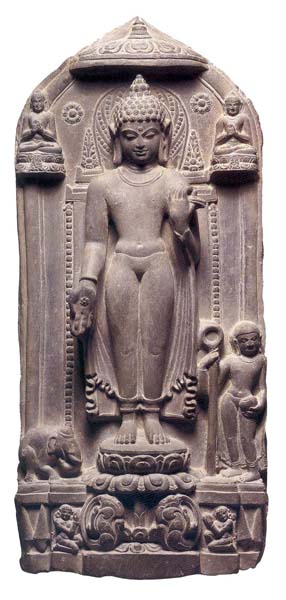 Subjugation ofNalagiri
Bihar
11-12th Century A.D
Stone
52 x 23 x 7 cm
ACC NO:   CAC/Conf/314
The Shakyamuni Buddha is seen taming the mad elephantNalagiri.   This incident took place on the streets ofRajgir.   It is said that Devadatta, the apostate monkand cousin of the Buddha, impelled by sheer jealousy, wanted tointimidate the Buddha. He connived with the palace mahouts andsucceeded in letting loose the outrageous elephant, Nalagiri,through a city gate of Rajgir. This caused panic as people startedfleeing in terror, some were crushed beneath itsfeet.     When the elephant reached the Buddha,it appeared to crush him. The aura of the Buddha was so great uponthe elephant it bowed its head to the feet of the lord and thustamed.  
Here, the Buddha is standing in sama-pada over adouble-petalled lotus attached to trirathaprojections.   He is robed in an antarvasa anduttarsanga showing a circular urna on the forehead.The face bears placid smile and auspicious lines around theneck.     His left hand is holding the hem ofhis uttarsanga which covers his body while the right palmdecorated with rosette motif is displayingvarada-mudra. The head and the conicalushnisha are covered by short spiral curls. The halo isalternatively decorative with bead and string motif.  The either end bear triangular decorative floral motif and above itis beaded circles with pellet.     There is adecorative canopy over the head.  
The back rest is of rectangular shape with beadedmargins.     On the either side of the barthere are two Dhanyi Buddhas seated on double petalled lotus inpreaching attitude.   On the left side of the Buddha amendicant is standing with a noose in a right hand and the left issuspended to his thigh.       On theright side is the elephant, Nalagiri, bowing before thelord.   The ratha projection shows male and femaledevotees on either side of lotus stem terminating into foliagepattern.   There are two conical pots with offering oneither side.