sicy Updated:2007-02-14 Text:Large / Medium / Small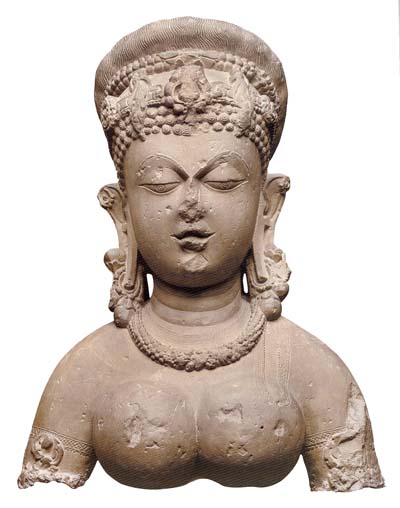 Female bust
Gwalior
            7th century A.D.
Stone
Size:- 67 x 41x 27 cm
Acc. No. 51.97
The present sculpture is a surviving upper portion of a femalefigure from Gwalior region. She is notable for her rounded bodyforms, the heavy hemispherical breasts pushed close together anddetails of the hairstyle and ornamentation. Her elaborate hairdo iscarefully fitted into jeweled ornaments, small curls on theforehead and neatly combed hair on top are carved so carefully thateach line is clearly visible.   Upper part of her ears ispierced to accommodate small ear-studs; while lower part of the earlobes are stretched long due to heavy suspended type of earornaments. She is wearing necklaces made of pearls and strings,which are twisted around. Her elongated half-opened eyes, small butsharp lips and projected chin add to her beauty.
This is a fine example of work, revelling the art heritage ofthe upper Deccan.   Although the carving dates back to7th century A.D., it is prior to the rise ofGurjar-Pratiharas. A greater crispness to the features of the facecreating a more linear and sharply defined effect, and the greaterelaboration of jewelry are   preclude to high ornateforms produced in the later period. The far reaching effects of theupper Deccan styles of the Vakatakas and Kalchuries on developmentof art in the rest of India can also beemphasized.