Updated:2017-03-13 Text:Large / Medium / Small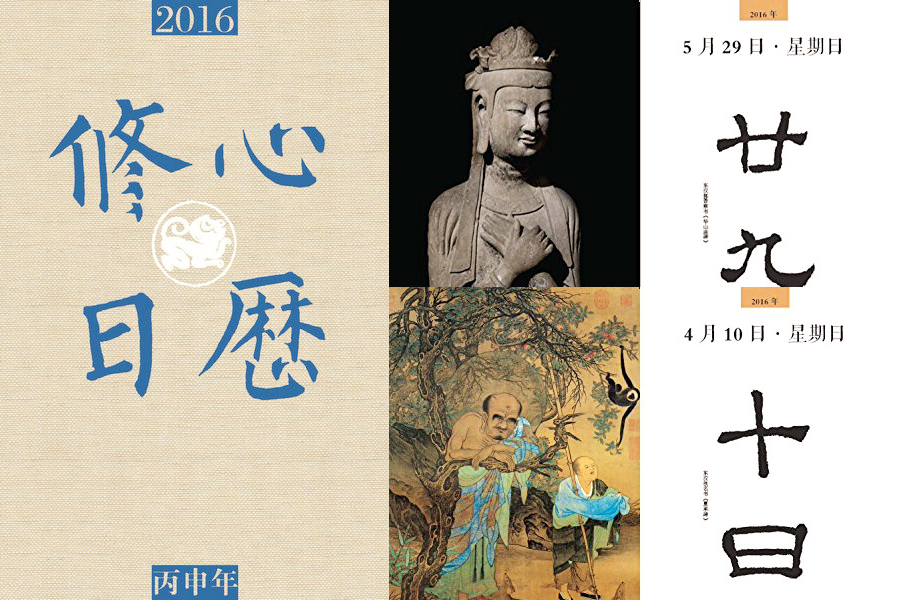 Buddhist and Taoist Teachings Calendar
If you are interested in ancient Chinese philosophy, this 720-page calendar must be a perfect accompaniment for the whole year. The datebook also shares Confucius' thoughts and teachings beside Buddhist and Taoist texts.
"I read this calendar almost every day. It is more like a small encyclopedia on Chinese ancient civilization and calligraphy," user Jiaoyuren commented on Sina Weibo.
"It is a little bit thick for having 720 pages, yet easy to keep in my bag. Very nice design with paintings and classic texts and teachings of Confucius, Buddhism and Taoism," another Weibo user Xushu said.
The Dream of the Red Chamber Calendar
The calendar was designed based on the poem and couplets from the Chinese literary classic, The Dream of the Red Chamber. The poems are explained from the perspective of the context and cultural value. The calendar also added information about the elite lifestyle of ancient Chinese people and a series of traditional Chinese ink paintings and calligraphy.
"To my deep regret, I only read The Dream of the Red Chamber once when I was in high school. But this calendar brought me back to the amazing world written by Cao Xueqin," reader ruc1991 commented on Amazon.
The datebook got 7.7 points out of 10 on Douban, a Chinese popular review site.
"As a faithful fan of The Dream of the Red Chamber, I fell in love with the calendar once I got it," an anonymous Douban user said.
Wu Changshuo's Artworks Calendar
Each page of this calendar is a painting from Chinese artist Wu Changshuo. The whole year is a journey into the world of Wu's art. The calendar also features Wu's 12 art essays to help readers learn more about his works.
Born in Zhejiang province in 1844, Wu achieved fame for not only painting but also calligraphy and carving.
"This is another artistic calendar I bought. And I am looking forward to the next one," a Sina Weibo user commented.
Beauty of Chinese Characters Calendar
This calendar is an in-depth presentation of daily-used Chinese characters that convey Chinese civilization and culture. The editor combined Chinese characters' origin, design, writing and function with their evolution and application in the past thousands of years. People can have a systematic way to learn about Chinese characters' developing history after daily reading for one year.
"This calendar is a good gift to foreigners or people who are fond of calligraphy," Sina Weibo user Hanyazi said.