Updated:2017-12-18 Text:Large / Medium / Small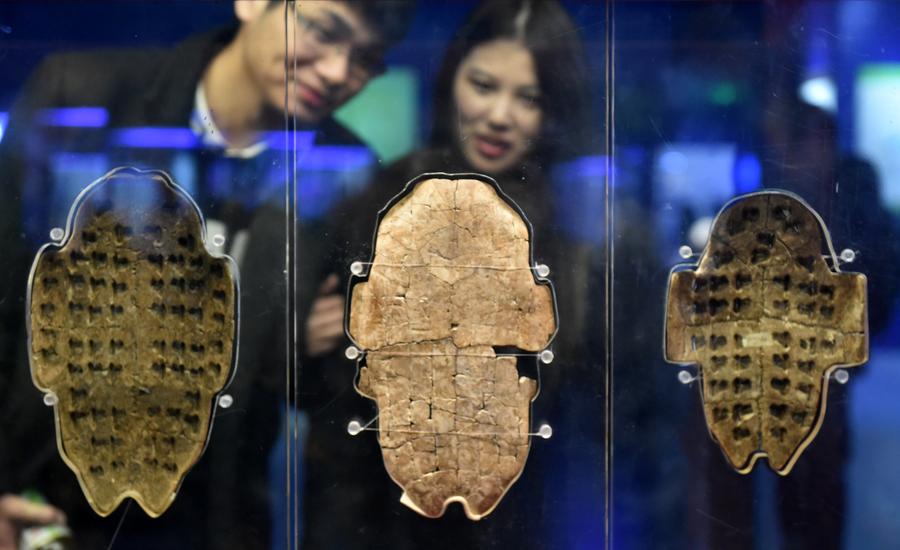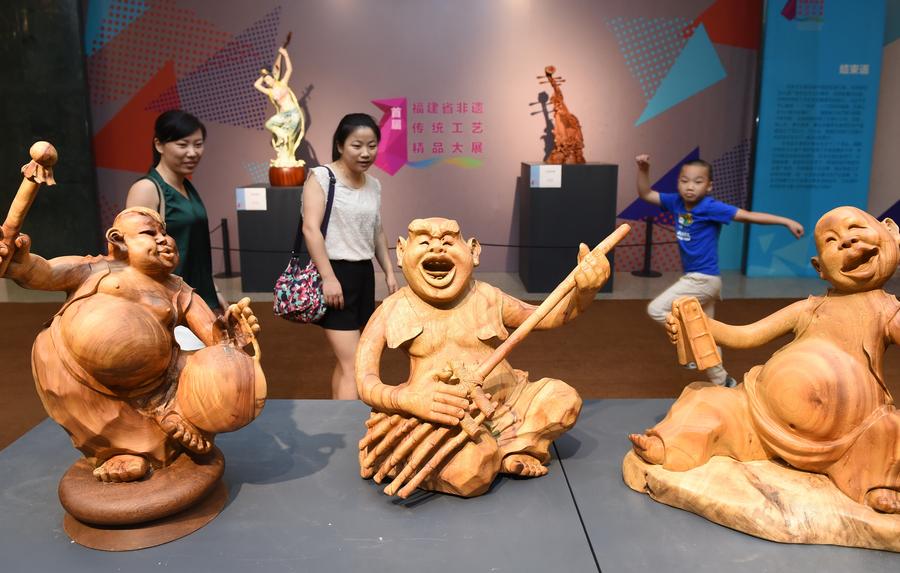 cultural events from 2017
Cultural Development Action Plan of the "Belt and Road" of Ministry of Culture (2016-2020) released
The "Belt and Road" has been one of the hottest topics in the first half of 2017 as China hosted the first Belt and Road Forum in May. China's Ministry of Culture also released the Cultural Development Action Plan of the "Belt and Road" (2016-2020) in January, with a special team set up to lead cultural communication and cooperation around the country. So far, China has signed governmental cultural agreements with all the countries involved in the Belt and Road Initiative.
People view wood sculptures at an exhibition in Fuzhou city held to celebrate the first Cultural and Natural Heritage Day in China, June 10, 2017. [Photo/Xinhua]
3. China welcomes the first Cultural and Natural Heritage Day
June 10 marked China's first Cultural and Natural Heritage Day. The festival, whose name was changed in 2016 by the State Council from the former Cultural Heritage Day, is held on the second Saturday of every June.
The event, which focused this year on the theme of dynamic intangible cultural heritage inheritance, is a collective showcase of achievements on intangible cultural heritage protection since the 18th CPC National Congress held in 2012. Organized by the Ministry of Culture, over 1,700 activities were held nationwide.
People view oracle-bone inscriptions at Yinxu Ruins in Anyang, Henan province, Nov 26, 2017. [Photo/Xinhua]
5. Oracle bones added to UNESCO world memory register
Chinese oracle-bone inscriptions were included in the UNESCO Memory of the World Register this year. Oracle-bone inscriptions are the earliest documental evidence found in China, excavated from the Yin ruins in Anyang city, Central China's Henan province. These artifacts provide records of divinations and prayers to the gods from people in the late Shang Dynasty (c. 16th century-11th century BC). Over time, oracle-bone inscriptions developed into modern-day Chinese characters, showing the continuous evolution of Chinese civilization.
So far, China already has 10 examples of documentary heritage inscribed on the Memory of the World Register.
Cultural TV programs rekindle public's passion for traditional Chinese culture
Cultural TV programs have experienced a comeback this year, with brand-new TV shows such as Readers, the second season of the Chinese Poetry Competition, and the latest National Treasure coming out.
Airing on China Central Television (CCTV), the TV show Readers sparks fresh enthusiasm for Chinese literature. Internet users have hailed it as "a breath of fresh air" among variety shows in China, a refreshing change from the usual dance and singing shows that dominate live television.
The newly released show National Treasure, which is dedicated to showcasing the background stories of national treasures and making these relics "come alive", is already winning much acclaim from audiences.