Updated:2018-01-08 Text:Large / Medium / Small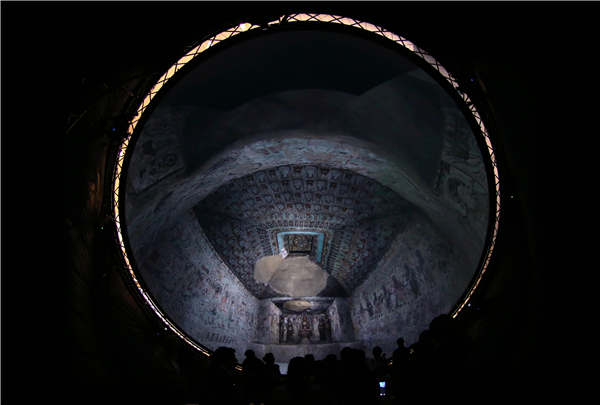 The art of Mogao Caves was displayed with 3D technology during the Summer Davos Forum in Dalian, Liaoning province, in 2015.
Digitization, internet traffic used to ease number of visitors
The popularity of the Mogao Caves, which house the world's largest collection of Buddhist art, is proving their biggest threat.
The caves, in northwest China's Gansu province, already have received many more visitors this summer than they can handle, and this is altering their environment. But new technology may help save the caves from their own success.
In July, 350,000 people visited the caves, twice the monthly cap and 20 percent more than July 2016, according to officials at the Dunhuang Research Academy, manager of the caves, which have survived for centuries.
The single-day peak number of visitors in July exceeded 18,000, triple its daily maximum, said Li Ping, who is in charge of visitor reception.
"The humidity and temperature inside the caves increases with too many tourists," said Li, adding the moisture and the carbon dioxide they exhale cause irreparable damage to the caves' frescoes and painted sculptures. Sand and wind also pose a threat. Archaeologists say the caves are deteriorating more rapidly than in the past.
To reduce the damage, a maximum of 6,000 visitors in the caves are allowed per day. Tourists can book visits a month in advance on the internet. But this summer, reservations have been filled up quickly and an additional 12,000 tickets are sold every second day at the site to accommodate visitors who did not book online.
The caves, 25 kilometers southeast of downtown Dunhuang, have seen an increasing number of visitors since they were opened to the public in the late 1970s, especially after they became a UNESCO World Heritage Site in 1987.