Updated:2018-10-23 Text:Large / Medium / Small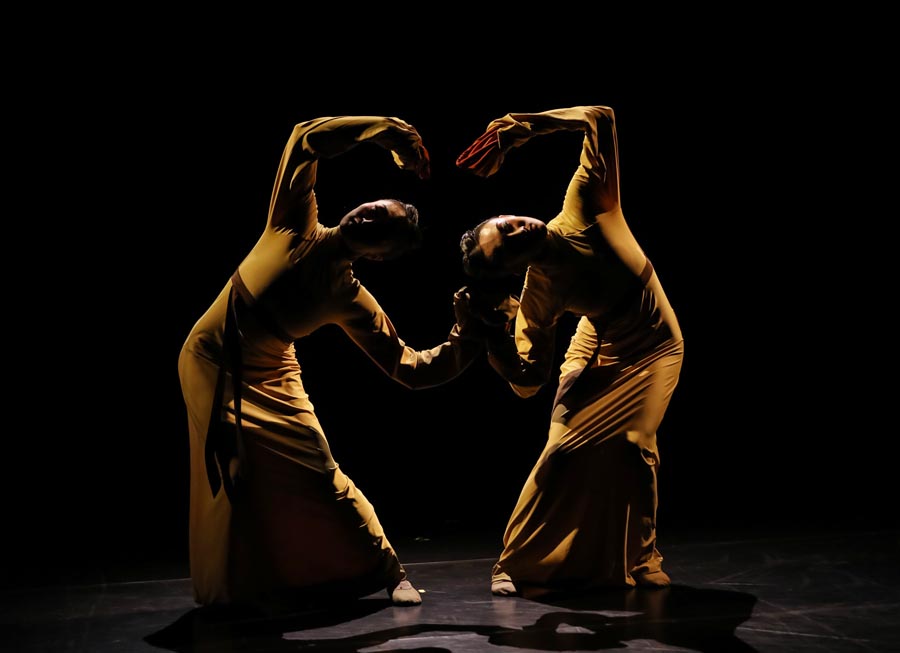 stage photo of Yong 2.

Using multimedia technologies, Tian caught the eyes of the 400-plus audience with a three-dimensional portray of a solo dance at the beginning.
"Multimedia technology is widely seen in theaters nowadays, whether you like it or not. It solves many problems that traditional stage design cannot solve, such as the holographic effect," Tian said.
Tian said she collects various dancing figurines from museums nationwide. Their vivid gestures and expressions have prompted her imagination of dancers from the ancient dynasty.
The whole piece was not storytelling however.
"It never wanted to tell a story, since it's only 30 minutes," Tian said. "Some people may see it as a dialogue between history and today, while others may think differently... The duo dance in the second part, for example, is inspired by pictures from history books which some audiences may feel familiar, especially those who have learned history of Han and Tang dynasties."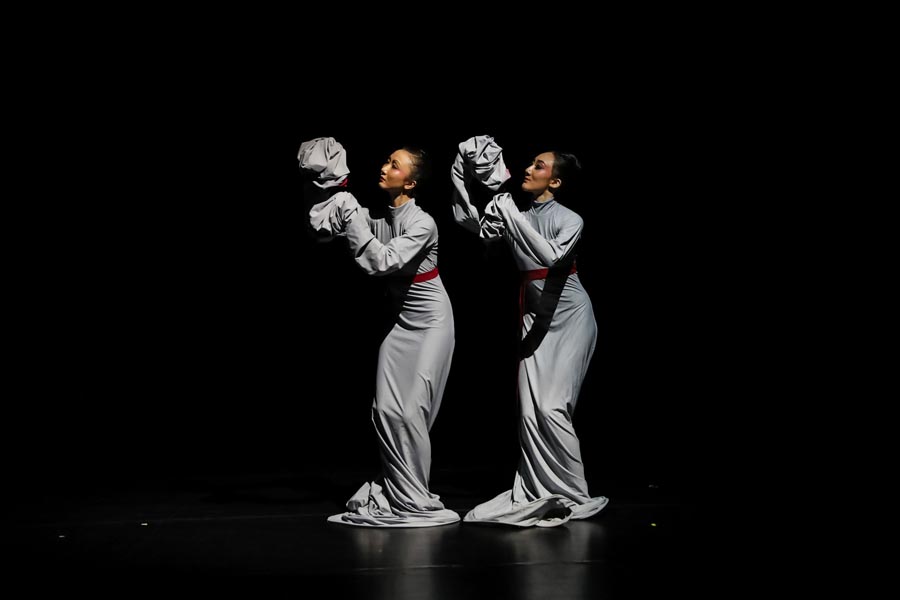 Two young Chinese choreographers' new works Yong 2 and Collision have created a feast for ears and eyes in Beijing, fusing classical and contemporary dancing styles while injecting new vitality to traditional dances with multi-media technology.

The two programs, directed by Tian Tian and Chi Dongdong, formed a 70-minute show at the National Center for the Performing Arts on Saturday, as part of the China Dancers Association's annual feast to spotlight creative ideas of young choreographers.
The association's fifth edition of The Dancing Platform for Young Artists presents 10 dance performances from Oct 10 to 17, among which, seven are produced by rising choreographers in China's dancing scene.
The yearly event is supported by special fund for literature and arts development from China Literature and Art Foundation.
Collision: Chemistry sparkled in the air when tradition meets contemporary
For 32-year-old Chi Dongdong, dancer-choreographer and a teacher with Beijing Dance Academy, Collision is an experimental attempt to fuse traditional and contemporary dance.
The 40-minute performance was a harmonious blending of folk dances of China's Korean ethnic group with contemporary dance from the West, pairing folk instruments such as drums and gong with Western instruments such as cello.
Chi said he hopes the combination could trigger reflections on conflicts in modern life where many young people are struggling to find their true selves inside.
"The only traditional costume I used in my choreography is the Korean costume that people could see at the beginning. It's replaced by dancers wearing western-style clothes very soon," Chi said, adding that it's a symbol of liberation in dressing.
Emotional, passionate or fast and furious, you never know where Collision is going.
"This project (The Dancing Platform for Young Artists) encourages creativity. If people could predict what choreography will follow one another in my work, the production itself will lose appeal to me," Chi said.
Chi's avant-garde style was nurtured during his three-year stay in South Korea. From 2010 to 2012, he studied in Korea National University of Arts and finished his master's degree there. "South Korea is one of the best places in Asia that sees excellent integration of traditional and modern arts. Professors at my university were very bold in creation," Chi said.
Though Korean dance, his major in colleague, had a big impact on his choreography, Chi said he always pursues its infusion with contemporary dance.
"Influence of traditions is not easily seen in artworks of masters. For example, in Shen Wei's works, philosophy from the East was embedded inside, but not obvious," he said. Shen is a famous Chinese choreographer, painter, and director based in the US.
The flow of light and shadow merged with the slow, graceful postures of a row of Chinese dancers dressed in traditional costumes, bringing alive dancing figurines unearthed from tombs of the Han Dynasty (206 BC-AD 220) as well as the splendid dancing culture back then.
The ancient dancing figurines, known as yong in Chinese, are usually seen as displays in museums. The little statues have however become the inspiration of art creation for Tian Tian, a young Chinese dancer-choreographer based in Beijing.
Saturday's performance of Yong 2 is a sequel of Tian's 2016 production. The 30-minute classical piece comprised a solo, a duo dance, a trio and a group dance. The dancers move in solos or in ensembles of different sizes, to the slow beat of drums and traditional Chinese music, reviving the beauty of the Han Dynasty dance.