Updated:2018-11-05 Text:Large / Medium / Small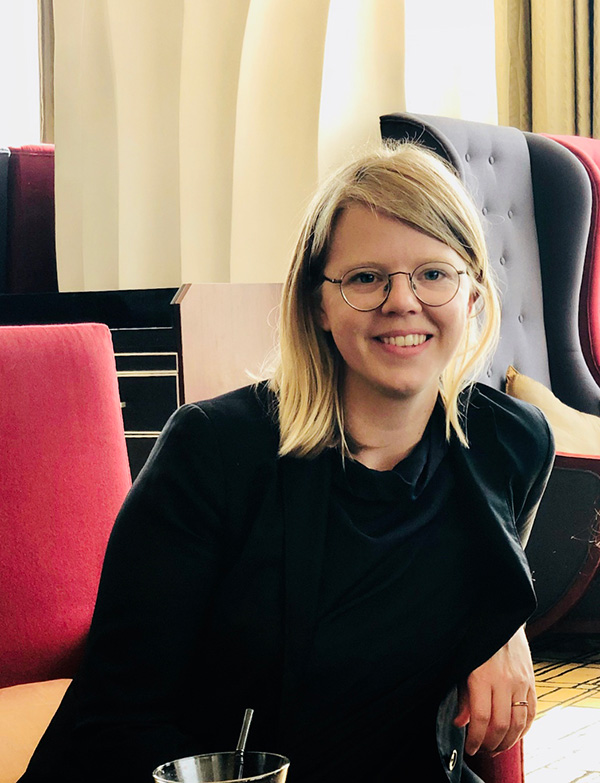 Translator thrilled to bring Jin Yong's martial arts works to Western audience
If a 10-year-old Chinese boy would read Jin Yong stealthily late at night under the covers, it should be the same for the English readers." Anna Holmwood, translator

Ninety-four-year-old Louis Cha Leung-yung, perhaps better known by his nomme de plume Jin Yong, is probably the best-known and most widely read living author in the Chinese-speaking world.
His 15 novels, at a rough estimation, have sold at least 350 million copies, while he also has a huge body of adaptations for TV series, films, games and animations to his name.
Yet, he is little known to Western readers.
Some believe that it is because his martial arts stories, known as wuxia in Chinese, are impossible to translate - a result of the kung fu notions derived from a complicated system of Chinese thoughts and philosophy, as well as quotations and references to the nation's literary, historical and cultural traditions.
Anna Holmwood, however, has made the impossible possible.
She is doing the job when "the timing is right in the West, and the timing is also right in China".
Her book is the first trade paperback edition of Jin Yong by a UK publisher. Holmwood knows that readability is key.
"If a 10-year-old Chinese boy would read Jin Yong stealthily late at night under the covers, it should be the same for the English readers," she says, adding that's why she offers as few notes as possible, three introductions and several appendixes explaining terms like kung fu.
Months after the official release of her translation of Legends of Condor Heroes: A Hero Born, Holmwood says the book sold out for seven reprints. The copyrights were also sold to seven countries, including the United States, Spain, Germany and Brazil.
She is excited about the US version, slated for release in 2019, saying: "I'm really delighted that Jin Yong's writings will finally be available to the mainstream American audience."
She also hopes that the Condor Heroes series will be as well received as Liu Cixin's Three Body Problem trilogy in the West.
Eleven more volumes are planned. The next one is the soon-to-be-released A Bond Undone.
According to Holmwood, making the original three series in Chinese, each series with four books, into a total of 12 English volumes with 12 individual titles is itself a publishing strategy for better understanding and recognition of the source material.
Upon news of the book's release, controversies and curiosity have been accumulated among the Chinese audience, while to Western readers, it was something fresh and attractive.
Reactions in the West to the book, and especially on the quality of translation, several months after the official release in February have been overwhelmingly positive.
British novelist Marcel Theroux described in The Guardian the first Jin Yong book translated into English as "a joy", noting, "I felt a slight regret that I was coming to this novel in my fifth decade. It would be a wonderful initiation into a lifelong enthusiasm for China, its history and civilization, its vast and chronically misunderstood presence in the world."
Theroux hails Holmwood's translation as "vibrant" and says that it portrays "the unashamed narrative zest of a primary-colored fairy tale world".
Author Ian White wrote in Starburst magazine: "It's nice to finally read a translation that is not stilted in any way and is as fresh on the page as if the source material were written yesterday."
Chinese readers seem to think that Holmwood is doing a fantastic job of explaining supposedly untranslatable things.
Some, however, question the choice of translation with regards to certain names.
For instance, for the title, Holmwood wrote a few words as an appendix to address her choice of the word condor over eagle. She even chose the name Lotus Huang for Jin Yong's female protagonist instead of the pinyin name, Rong.
"Lotus is a feminine name. It indicates to the readers that Huang is a girl in disguise when she first meets the male protagonist, only he does not know," Holmwood explains.
Names are not the only challenges. She told China Daily - after speaking at the StoryDrive conference audience in Beijing in early June - that when she feels the flow of describing the movements of the martial arts heroes as a problem, she'd watch films and TV shows, or read fight scenes in The Three Musketeers to get inspiration.
Making comparisons is also a frequent strategy Holmwood employs to sell English-language publishers and readers on the books, "because it's easier to explain if you can point to a similar book that's already successful in a similar genre", she says.
She "apologizes" for comparing Jin Yong's novel to The Lord of Rings.
"The wuxia novels are a genre unique to China and they have flourished for many years. However, they are not totally unfamiliar to the West. We have epic historical fantasies, and something similar," she observes, adding that wuxia films have already done the job of introducing elements of the genre to the Western public.
Holmwood was born to a British father and a Swedish mother in 1984 and educated at Oxford. She now lives in Malmo, Sweden, with her husband and son.
She started learning Chinese in 2006 after a trip where she developed a strong interest in the country. She launched her career as a translator of Chinese literature after gaining recognition from a veteran in the field, Nicky Harman.
Her work includes translations of Ai Mi's Love under the Hawthorn Tree and A Yi's A Perfect Crime, as well as a number of short stories.
Her experience as literary agent has helped her sales pitches and text samples.
She calls herself "a clumsy student, reminiscent of Guo Jing (the Condor Heroes protagonist), perhaps, but one of loyal heart and unerring enthusiasm".
She started translating Jin Yong in 2012, spending extra time trying to figure out.
"How was I going to approach this, and what kind of narrative voice, tone and what register I was going to apply? How did I imagine Jin Yong's words would look in English?"
Then, she found Christopher MacLehose, the eponymous head of the UK publishing house that brought the books to print. He called Holmwood to insist that he had to be the one to publish the Jin Yong books as he could not bear to see the series go to anyone else.
MacLehose's other literary coups include securing the rights to Swedish writer Stieg Larsson's best-seller, The Girl with the Dragon Tattoo, for the British market.
Holmwood believes there are two more things about Jin Yong's writing that resonate with a Western audience: one, the Mongolian setting "acts like a gateway to Western readers into the Chinese setting and historical background", and, two, the charm of the characters and their emotional worlds.
"It's a universal theme of a young man with a mission. He grows up and needs to show his loyalty," she explains.
As White notes in his Starburst review: "Jin Yong ... is working with themes that are absolutely timeless - good versus evil, love versus sacrifice, nature versus nurture, honor versus deceit ... This is magnificent writing that will more than reward your patience."
It has been 60 years since Jin Yong's Condor Heroes was first published in the newspaper and, since then, only three novels have been translated and published by university presses.
However, many more have been rendered into numerous languages in fan-based online forums.
"Contact between China and the West has been deepening since the 1980s, and that extends from political and economical matters into more cultural aspects," Holmwood says.
"These days, it's common to encounter Westerners who speak fluent Mandarin.
"The Chinese people - though they have perhaps felt that their culture has long been neglected - now it's a time when they can feel confident about the place of their history and their culture in the world.
"Sometimes it's that exact uniqueness that creates the selling point."