Updated:2018-12-03 Text:Large / Medium / Small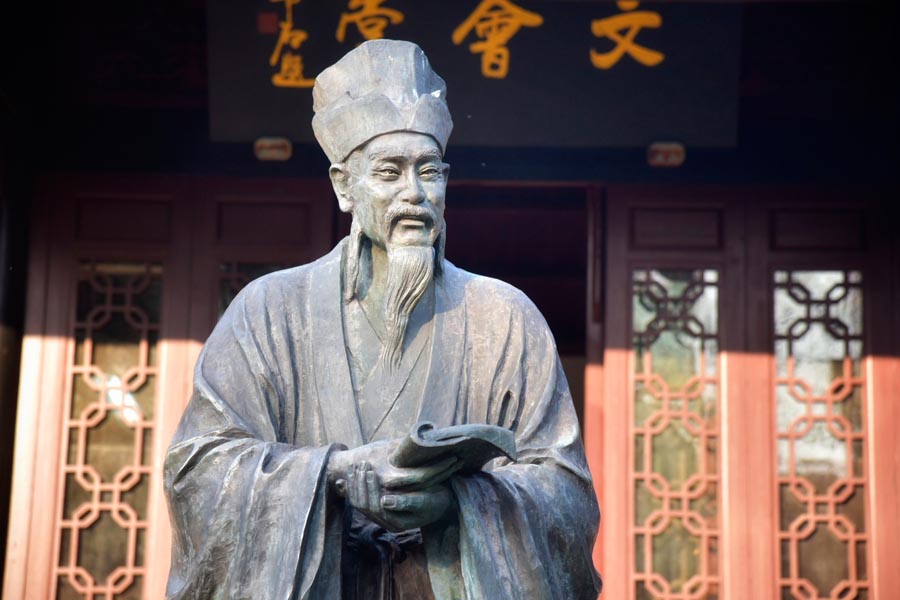 Old academy, new ideas
In East China's Jiangxi province, the Lushan Mountain scenic area seems to be a must-visit spot for visitors from both home and abroad.
Lushan abounds in historic and cultural relics. And Bailudong Academy, or White Deer Cave Academy, is the perfect representative. As the most famous of the four biggest academies of ancient China, Bailudong Academy enjoys high prestige in the history of Chinese education.
Through the front gate, young people read in delicately ornamented houses built in the Song Dynasty (1127-1279) in the shadows of old trees with hundreds of years of history.
Grand lecture halls stand one after another, with traditional eaves, solemn black doors, red stone inscriptions and couplets written by ancient scholars.
Bailudong Academy is located at the southern foot of Houping Mountain, 10 kilometers south of Wulao Peak at Lushan Mountain.
During the Tang Dynasty (AD 618-907), the poet Li Bo and his brother settled there in seclusion. After being appointed governor of Jiangzhou prefecture, Li revisited the site and ordered the construction of buildings and pavilions.
The site then became a tourist attraction named Bailudong. During the early Song Dynasty, it was extended to include an academy and was formally called Bailudong Academy.
As the first comprehensive academy in Chinese history, the Bailudong Academy was reputed as the leader of the Four Academies in China along with the Yuelu, Juyang and Shigu Academies. Many renowned scholars of the Song Dynasty, such as Zhu Xi, gave classes there.
Main constructions at the academy include the Lingxing Gate, Banchi, Lisheng Gate, Lisheng Hall, Zhuzi Temple, Bailudong and the Imperial Writing Pavilion. The Zhuzi Temple was built to commemorate Zhu Xi. In the back of the academy is a cave with a stone white deer inside — the academy's namesake, as bailudong roughly translates to "white deer cave".
The academy, circled by carved stone walls, boasts well-designed architecture, graceful willows and a number of inscriptions by scholars and calligraphers throughout Chinese history.
In recent years, Bailudong Academy has become an important base of Chinese traditional culture study in China, according to Li Ningning, a professor at Jiujiang University.