Updated:2019-01-30 Text:Large / Medium / Small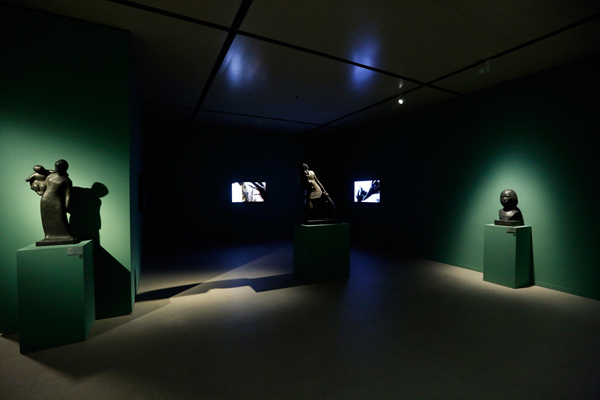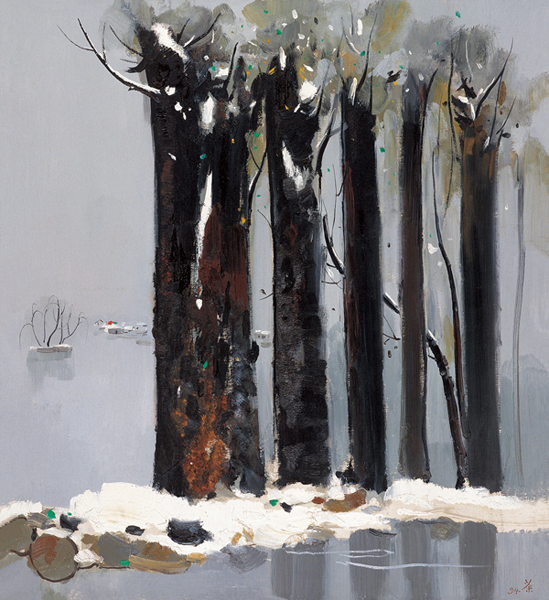 Pioneering, an exhibition at the art museum of the Central Academy of Fine Arts, brings together paintings and sculptures by Chinese artists who studied in France in the first half of the 20th century.
Chang Shana, born in Lyon, was named after the river of Saone, and remembers her home being a meeting point for Chinese artists in France. "My father and his fellow artists loved their country very much. They studied there for the purpose of serving their people back home."
Fan Di'an, the head of the Central Academy of Fine Arts in Beijing, says these pilgrims of art brought back to China not only advanced approaches to art and education, but they also carried with them an ideal for the renaissance of Chinese art.
"They studied in the same country, while their development in career, whether they returned or stayed in France, diversified to fertilize the land of modern Chinese art," he says.
Before Wu Guanzhong departed France for home in 1949, he wrote a letter to Wu Dayu, his teacher at the Hangzhou Fine Arts School (now China Academy of Art).
Some works of the two acclaimed painters, both of whom attended the National High School of Fine Arts in Paris, are on display at the current exhibition.
"The study of art does not take place in Europe, Paris or the studios of masters," Wu wrote in the letter, "it is in my country, my homeland and in my heart. I'm hurrying back, and I will start all over again."
New exhibition compiles the work of artists who were at the forefront of the country's creative renaissance, Lin Qi reports.
In the first half of the 20th century, China saw a rise in the number of people studying abroad. Hundreds of young people embarked on ships, largely heading for Europe, Japan and North America. They hoped that their studies would help pull their homeland out of the abyss of poverty and chaos.
Some boarded a liner that cruised regularly between China and France. They sailed for a month putting up with all the discomforts of sea travel and finally, they arrived in Paris, the world art capital.
The years between 1911 and 1949 saw these talented Chinese, arriving in separate groups, and then becoming well-trained painters, lithographers and sculptors. Among them are Wu Fading, the first to study in France on a government scholarship, according to official documents, who first learned law but then transferred to oil painting; Pang Xunqin, a medical dropout from Shanghai's Aurora University; Pan Yuliang, who was freed from a brothel and studied under her husband's sponsor; and Zao Wou-ki, who left his teaching position and traveled with his first wife and artist Xie Jinglan.
Such artists, roughly 100 in number, contributed significantly to ushering Chinese art, deeply ingrained with outdated rules, into a modern age of greater vibrancy. Until now, no exhibition has given a comprehensive presentation of this collective, but the Central Academy of Fine Arts in Beijing, where many of the artists once taught, is staging a first-ever group show, Pioneering, at the school's art museum. The exhibition is set to run through March 3.
Exhibition curators did their best to locate the works of some 40 artists, and to loan around 200 paintings and sculptures from museums, galleries and private collectors. The youngest artists featured at the show, Liu Ziming and Lyu Xiaguang, died five years ago, both aged 87.
Philippe Cinquini, the exhibition's French co-curator, who oversees a section that features the works of those French artists who once mentored Chinese students, says each work at the show tells an individual part of history, a journey of adventure and of courageous young men and women crossing continents and oceans to realize a dream of art.
Featured artists include household names, such as Xu Beihong, who was an influential figure on China's course to independence, and Liu Kaiqu, the first director of the National Art Museum of China and a sculptor who participated in several of the country's public projects, including the Monument to the People's Heroes at Tian'anmen Square.
The exhibition also marks those little known artists who died shortly after their career just began, and only a handful of their works have survived.
Shao Dazhen, a pre-eminent art theorist and professor of the Central Academy of Fine Arts, says the Chinese artists in France formed a noticeable force to signal Chinese society's attempt to know about the modern world.
"Their work demonstrates how they viewed and dealt with the cultural clashes between China and the West," he says. "They tried hard to master Western fine arts, such as oil painting, watercolor and sculpture; meanwhile, they injected an understanding of Chinese culture into their creations, by which they hoped to reach the ultimate goal-to give Chinese art a modern revival."
Xu translated the classic European art tradition into his ambitious production of several oil works that narrate ancient Chinese anecdotes, through which he attempted to lift the nation.
Pang, who hailed from a well-connected family, gave up the prospect of being a doctor-a family expectation. He took up painting and designing, instead. He compiled patterns on Chinese antiques, such as bronze ware and daily objects of ethnic groups, published them and used them in his designs.
Chang Shuhong's paintings won him several medals at the prestigious Paris Salon. After returning to China in the 1930s, he devoted the rest of his life to the research and preservation of the art of Dunhuang.
Chang's daughter, Chang Shana, 88, says her father's interest in Dunhuang was ignited after he visited an old book stall near the Seine and found a book by French Sinologist, Paul Pelliot, on Dunhuang. "He said: 'How much I admire European art, but how little I know about our own culture. What a shame!'"