Updated:2012-02-29 Text:Large / Medium / Small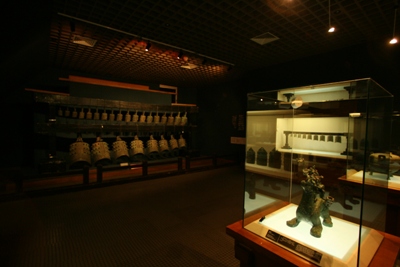 The principal exhibits of this hall are the bronzesunearthed from the tombs of the Chu State's nobles at XichuanCounty, Henan Province, since 1982. These exhibits, classifiedaccording to their uses, put the stress on showing the matchlessexquisiteness and beauty of the bronzes of the Chu State.
The exquisite decorations and 85-characterinscription of Prince Wu ding are invaluable materials for thestudy of the nobility of the Chu Dynasty. The bronze jin (winetable) with a design of clouds is the earliest bronze cast with thelost-wax method discovered in China so far.The five-storeyedopenwork with 24 dragon-shaped monsters climbing around is superblyexquisite in craftsmanship.
Besides, there are a large number of bronzemasterpieces in the hall, such as the magnificent "Wangsungao"chime of bells, the weird-looking bronze animals, the square ewerwith cloud designs, the   "Kehuang" sheng ding, the dingwith inlaid lacquer and undulating cloud designs etc. Having beenlying underground silently for more than 2500 years, now theirexcellent craftsmanship and superb exquisiteness will surely leavean unforgettable impression on the visitors.