The bronze jiaodou vessel with a dragon head and a phoenix tail features a round belly. The end of the curved handle is made into a dragon head, its eyes popping out and its mouth slightly open. There are palpi on its chin. Its horns bend backward into a pair of arched perforations. The long handle is welded to the vessel's belly.
There is a U-shaped spout on one side of the flared rim of mouth. String pattern goes around the lower part of the plain straight belly that features a flat bottom. The vessel has a phoenix tail at the rear, slightly turning upward, on which there is a semi-circular loop handle (Fig.1). The three hoof-shaped legs all flare out and are inscribed with characters "Li", "Bao" and "Ji", respectively. (Fig.2)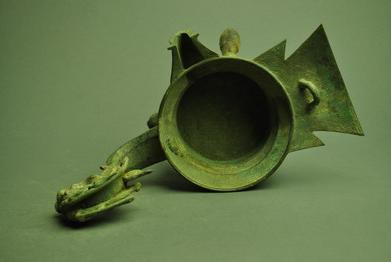 Fig.1 Top view of the jiaodou vessel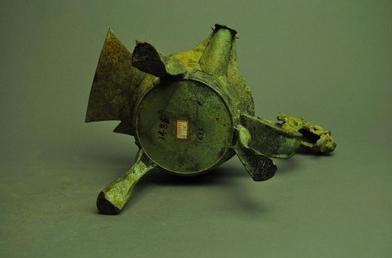 Fig.2 Bottom of the jiaodou vessel
Well preserved, fully covered by patina, and with obvious traces of soot on its belly and bottom, the bronze jiaodou vessel looks elegant in shape and features superb craftsmanship, is a rare treasure of the category in the Song Dynasty.