The arm-folding female figurine has her hair worn in a bun high on the crown and applies rouge on her lips. Inside the wide-sleeved button-down gown there is a fine pleated long skirt. She wears a pair of cloud-toed shoes and folds her hands in the wide sleeves. The figurine stands on a square base. The seal-holding female figurine has her hair worn in two ring-shaped buns. The red string drapes over her ears. Over her fine pleated long skirt is an open-necked gown with wide sleeves. Her shoes are completed covered by the skirt, except the cloud-shaped toes. A silk ribbon goes around her waist and drapes down at the back. The female figurine holds a seal wrapped in a piece of red cloth and stands on a square base. Both females have delicate features, looking mild and reserved in their faces, as if they are in readiness for any new work to do.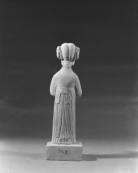 Fig.1: Back of the seal-holding female figurine
Both figurines are carved from limestone in concise yet smooth line engraving and circular engravure with delicate craftsmanship. The line-engraved hair buns and skirt pleats are particularly fine. The texture of clothes is well represented in a real sense. Originally coated with paints, both figurines are now almost colourless, except the red paint remnant on the bodies. The stone female figurines then look true to life, yet in an artistic way. However, the figurines have their heads out of proportion and "there are on them traces of a portrait sculptor style of the Sui and Tang dynasties, overstressing the facial features".
Both figurines are of the typical Song style in shape and craftsmanship. These two masterpieces of the Song Dynasty stone carvings in the round well demonstrate the artisans' superb creativity and craftsmanship in representing the real life in art, thus are of high values for the study of stone carving art of the Song Dynasty.