The basin with bluish green (douqing, "the color of dried peas") glaze has a straight mouth with a rounded edge, a curved belly that contracts downwards, and a flat bottom. It is covered with an even, clear, bright and shiny layer of glaze in a blue color tinged with green that features fine crackles in a regular pattern. The body is thin yet solid and compact. On the bottom are five roundish marks left by supporting pins. The vessel has a well-proportioned and charming shape that bespeaks superb craftsmanship.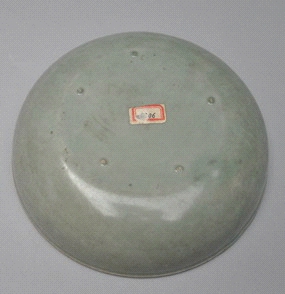 Fig. 1 The bottom of the basin
In 1981, the Mass Art Center of Ruzhou conducted a rescue excavation of a Song tomb at Shilipu Village in Qiling Township. The unearthed artifacts include a basin with bluish green glaze and a basin with sky blue (tianqing) glaze (Fig. 2). The body, the glaze and the superb craftsmanship suggest that both basins were distinct from common porcelain for the ordinary people and were among the best of celadon ware used by the Song imperial family.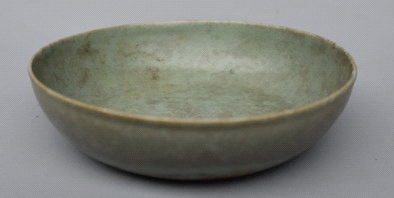 Fig. 2 Basin with sky blue glaze