The ancient music of the Shaoyue, played by Pai-Xiao, did not only invite the holy phoenix, but also nurtured the saint Confucius to such an extent that he for three months did not notice the taste of the meat he ate and exclaimed the perfection of the music
Updated:2006-06-20 Text:Large / Medium / Small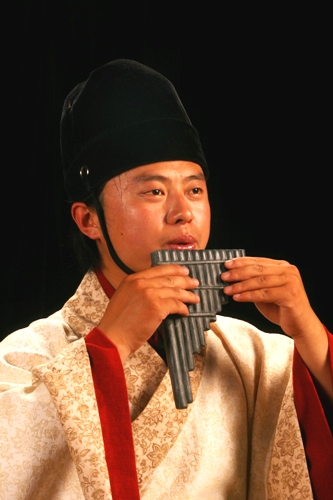 Stone Pai-Xiao: The Spring and Autumn Period,unearthed at the Chu Tomb, Xiasi, Xichuan.
As an ancient saying goes, "The Ninth Chapter of Xiao Shao, sowell performed, has attracted phoenixes." The ancient music of theShaoyue, played by Pai-Xiao, did not only invite the holy phoenix,but also nurtured the saint Confucius to such an extent that he forthree months did not notice the taste of the meat he ate andexclaimed the perfection of the music. The ancient world is teemedwith glorifications for Pai-Xiao, of which the figure is like thewing of phoenix and the sound resembles its singing. Pai-Xiao,taking the form of a triangular wing, is made of stone andgrayish-white in color.
Ten round openings are available to the player; they evenlydistributed. The lengths at the bottom reduce successively, and inthe middle there is a projecting tube of a transverse band. It isearliest in Chinese history. The materials for the ancient Pai-Xiaounearthed in Henan are divided into bone, stone, and bamboo. TheStone Pai-Xiao unearthed at the Chu Tomb, Xiasi, Xichuan, consistsof thirteen serial tubes of different lengths, all made out of asingle stone. The tube walls are each 1mm in thickness. Theaccuracy of the arrangement of temperaments and the perfection ofthe craftsmanship have proved the superior artistic standard of theancient Chinese music some two thousand years ago.
According to Beitang Shuchao, an ancient Chineseencyclopedia, Pai-Xiao is described as "Resembling wind's wings andringing; the figures differ, and the long blast sounds serious."According to Tao Zhu, ancient scholar, "The shape (of Pai-Xiao) islike the wing of wind; it consists of ten tubes, and is two-chi inlength." Accordingly, Pai-Xiao is also called Cen-Ci, or WindXiao.
The depths of the tube's holes are different from thecorresponding outside lengths; the inner diameters decreasesuccessively from the longest tube to the shortest. Also some ofthe tubes nozzles are severely damaged; the rest can also playmelodies of different pitches.