Buddhist Statue with Two Side-By-Side Buddhas
Source:
Henan Museum
Edit:
acf
Time:
2022.03.17 16:13:04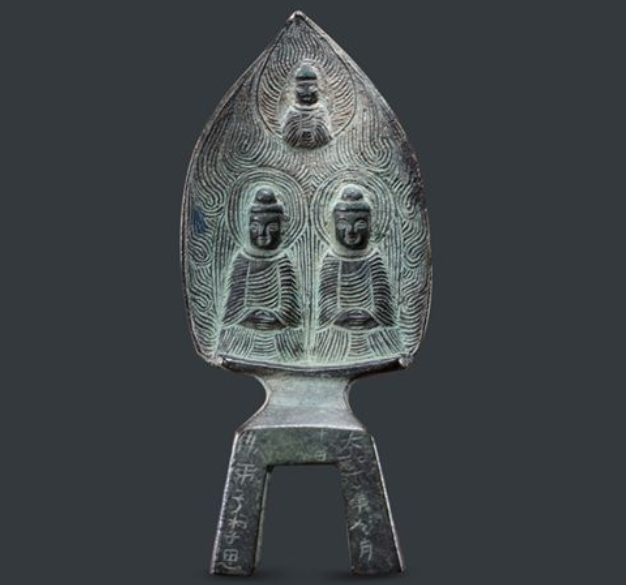 Measurements: Height 14 cm, Length 6.9 cm, Thickness 2.6 cm
Period: Northern Wei (386--534)
Provenance: Transference upon the governmental notice

Cast in the Northern Wei period, the bronze statue features two side by side Buddhas who are seated cross-legged, with high spiral topknots, visible facial features, halos in the back and around the heads, as well as elaborate and dense carvings marked as costume. The lines of costume on the shoulders and chest are arranged in the stepped pattern pendant on the two sides, showing a strong linear effect. The upper part of the halos which are lotus petal-shaped flame pattern, is also cast with a half-length Buddha statue, which is similar to the two-seated statues. The square four-legged pedestal is engraved with an inscription of 20 characters, literally "On September 18, the 11th Year of Taihe period, Buddhist follower Li Si created a Buddha (statue) for his parents".

The imperial Tuoba clan of the Northern Wei court believed in Buddhism and vigorously promoted Buddhist culture in the territories under their control. "Taihe" is the reign title of Tuoba Hong, Emperor Xiaowen. The eleventh year of Taihe period is correspond to 487 AD, when was the peak of Buddhist culture in the Northern Wei dynasty. The entire statue is simple but elegant, which was viewed as a masterpiece of the Buddhist art from the Northern Wei dynasty, providing precious historical reference for the study of the Buddhist culture and art in the Northern Wei dynasty.