Zu Xin you (wine vessel)
Source:
Henan Museum
Edit:
acf
Time:
2020.01.13 09:59:31
Views: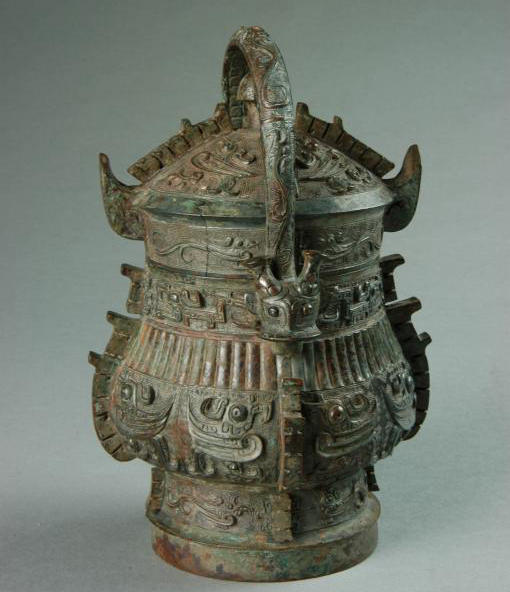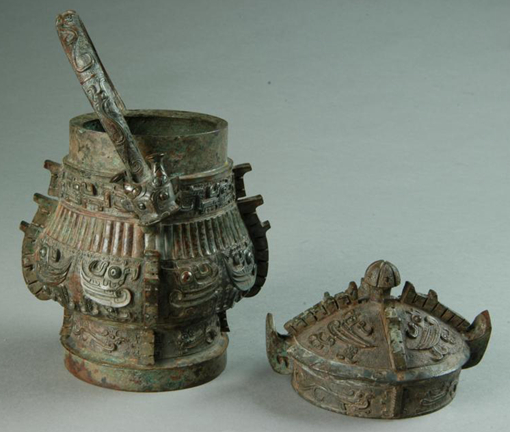 Shang dynasty (1600-1046 BC)
Height 25.5 cm, Mouth Length 9 cm, Mouth Width 10 cm
Excavated in Chuqiu, Huixian, Henan Province. 1965

This vessel has a lid and mouth that fasten together, along with a drum body and ring foot. There is a mushroom-shaped knob atop the lid, and the body and the lid both have four, evenly spaced, raised ridges running down them. The decoration of the entire vessel employs a cloud and thunder pattern as background, embellished with kui(monster)and bird designs. The upper portion of the body is decorated with vertical lines, and both ends of the loop handle are decorated with animal heads. The two characters 'zu xin' are cast into both the base and lid of the vessel.

The solemn shape of the piece is juxtaposed with its lavish decoration, suffusing the work with a sense of the surreal.

The stark exaggeration of the animal heads at either end of the loop handle increase this sense of solemnity, while the gaze of the auspicious bird eyes, in high relief on the lower section of the body, augment the sense of mysterious dignity in the decorative scheme.