Bronze Mirror with Musicians and Dancers and Chariot Procession
Source:
Henan Museum
Edit:
acf
Time:
2021.07.20 09:28:43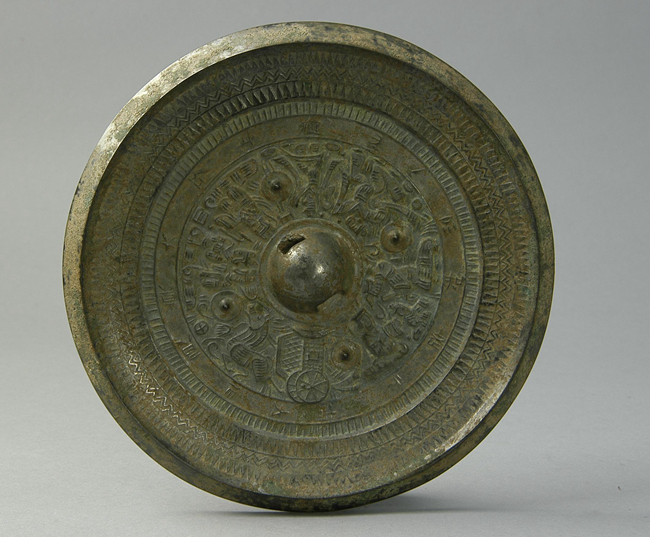 Period: Eastern Han dynasty (25--220 CE)
Measurements: 19 cm in diameter
Provenance: a gift from the Cultural Administrative Agency of Qi county, Henan, 1977

With an arc-shaped surface, the mirror has a concave back side, with a half-spherical knob in the center of the pattern, which has four nipples alternated with four scenes as the speeding canopied chariot, an ancient popular guessing game-She Fu, the Western Han tale "prankster Dongfang Shuo and the dwarfs", and the dancing maidservants with plates. Outside the pattern is an inscription literally means "The imperial workshop made the mirror with great ingenuity, the immortals (would live forever) not knowing aging". The border was adorned with triangles, parallel lines, and wavy lines.

The number of bronze mirrors in the Han Dynasty was the largest, in comparison to other periods in the history of China, and the development speed was relatively fast. Han dynasty was a critical period for the development of bronze mirrors in ancient China. The bronze mirror is a good carrier of the thoughts and philosophy of Taoism. The patterns of the Han bronze mirrors depicted a mythical world that people yearned for. Thus they not only express the yearning for a good life, but also display a beautiful vision of immortality through the bronze mirrors.