Pale Green Jade Bird-shaped Ornament
Source:
Henan Museum
Edit:
acf
Time:
2021.09.27 16:01:57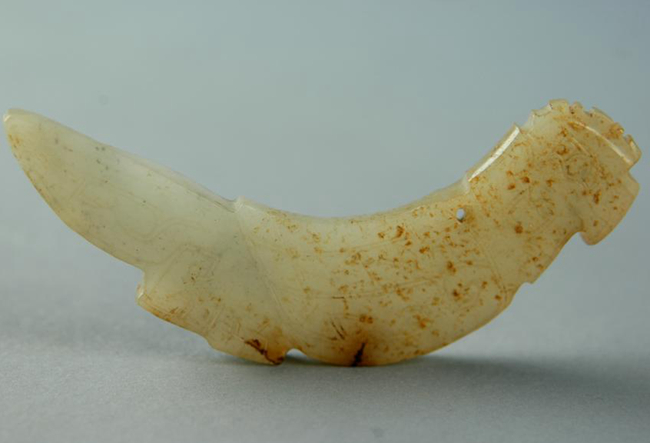 Period:Shang dynasty (1,600--1,046 BCE)
Measurements: Length: 10 cm, Width: 2.5 cm, Thickness: 0.5 cm
Provenance: Unearthed M5 of Fuhao tomb, Anyang, 1976
This bird-shaped nephrite object was unearthed from the well-known Fuhao Tomb at Yinxu, Anyang.

Located in the southeast corner of the Yinxu ruins in Anyang, the Fuhao Tomb (M5), though not large in scale, is relatively well-preserved, yielded extremely abundant exquisite burial objects. Fuhao, the tomb occupant, is the consort of King Wuding of Shang dynasty, presumably died in the Wuding period (1250 - 1192 BCE).
With a relative explicit burial period, and rich grave goods, Fuhao tomb is of great value to the study on the rituals, social economy, culture, and arts of Wuding period of Shang dynasty. The jade objects were mostly discovered in the coffin, of which, the wearable items, which were Fuhao's ornaments and gadget during her lifetime, were mainly from the central part of the coffin.
In total, 7 bird-shaped jade objects in different shapes and sizes were uncovered. The present piece, was carved in a crouching form, with stylized eyes, a pointed beak, short crest and wings, long tail, and a perforation on the neck for thread. It is overall simply carved, as extreme natural as it should be.