Drum-shaped White Jade Pendant
Source:
Henan Museum
Edit:
acf
Time:
2022.06.02 16:33:19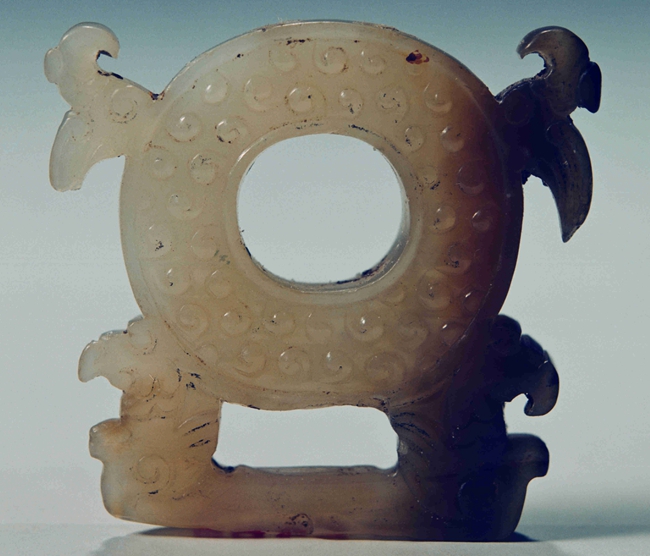 Measurements: L. 3.4 cm, W.3.2 cm, Thk. 0.4 cm
Period: Eastern Zhou (770--256 BCE)
Provenance: Unearthed from the No.16 burial at Pingliangtai of Huaiyang, Zhoukou, Henan province in 1979

Made of white jade, with yellowish white and brown inclusions, translucent, with glossy and fine texture. Created in the form of a drum on a conjoined beast-shaped pedestal, the pendant has the main part as a circular jade Bi, which was adorned with grain patterns and borders. Two confronting birds stand on the upper edges of the jade Bi, the crest, beak, feather, and tail are all clearly visible. Under the jade Bi is two tail-conjoined crouched back-to-back beasts that serve as the support which has a hole in the center. Exquisitely and realistically carved, the jade pendant looks like the drum with tiger-shaped pedestal unearthed from the Chu tombs, embodying the superb craftsmanship, thereby is a rare artistic masterpiece.

Pingliangtai site, not only an important urban site of the Longshan culture, but also found with more than 200 tombs dating to the Warring States and Han dynasty, which yielded a large number of exquisite cultural relics, epitomized the well developed material and cultural level from the Warring States to Han dynasty, and provide the study on the history of the Chu moving its capital to Chenying from 278 B.C to 241 B.C with valuable academic reference.