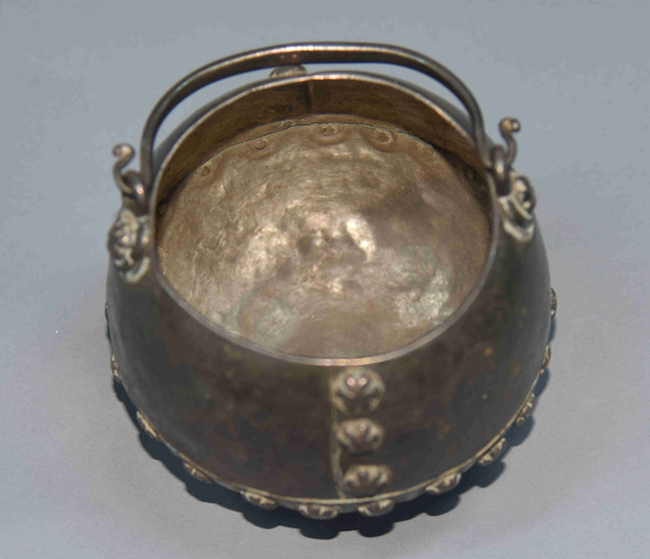 Period: Tang dynasty (618--907)
Measurements: 9.7 cm in height, mouth dia. 8 cm
Provenience: Unearthed from a Tang tomb at Yaling, Yichuan, Henan, 1991

With a slightly contracting mouth, bulging belly and rounded bottom, the vessel has its lugs riveted to the outer side of the rim, linked with the loop handle. The body is comprised of two pieces of silver sheets riveted together with six petal-formed rivets.

As a daily utensil used during the Tang dynasty, the jar was mostly used for storing wine and water, occasionally for medicine. The dominant gold or silver jars we have found at present are the Tang examples with loop handles, except for some of the three-legged silver ones.

Large in size, the Tang tomb, in which the present jar was uncovered, yielded a variety of gold and silver wares, totaling at 21 pieces made for different purposes, including eating or drinking, storing, for medicine, or other purposes. The tomb occupant, Madam Wu of Puyang, bestowed by the emperor with title "Imperial Madam of Qi State", was the mother of the Wang Chengzong, the Military Commissioner of Chengde in the Tang dynasty, and the wife of Wang Shizhen. The epitaph shows that she was born in 763 CE, and died in 824 CE.

Gold and silver wares of Tang dynasty were in great assortments with exquisite craftsmanship that fall into two types, casting and sheet metal processing. Based on the shapes and purposes, they are divided into two categories, ornaments and vessels. In addition, due to the prosperity of the Silk Road, foreign craftsmanship spurred the development of the craftsmanship, modeling features and decorative styles of the Tang gold and silver wares, reflecting the bustling social economy, culture, and the social trends of favoring extravagance in Tang dynasty from the multiple levels.