Mural painting of four animals in clouds
Source: Edit: Time:
2011.07.06 15:30:32
Views: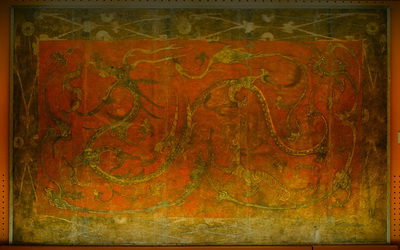 Type: Painting  
Materials: vermilion, and other pigments.  
Measurements: 5.14mx3.27m, 16.8㎡  
  
Time period: around 136 BC  
Acquisition: From the tomb of the King Lianggongwang of the Western Han Dynasty in 1987.  
Copyright: Henan Museum  
Reputed as "the Dunhuang before Dunhuang" -- the earliest, largest, highest-ranking, best preserved mural painting in China up to now. It is a full representation of the Chinese fairy world, and even more an epic of the ideology of the immortality.