Silver ingot from Jieyan Shisi (Bureau in Charge of Jie Salt)
Source:
Henan Museum
Edit:
acf
Time:
2020.01.17 11:04:50
Views: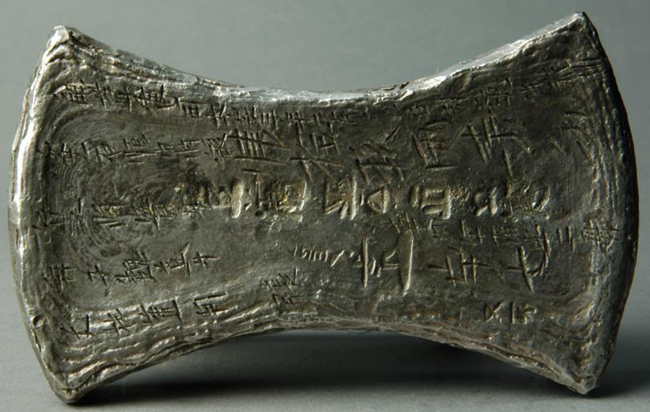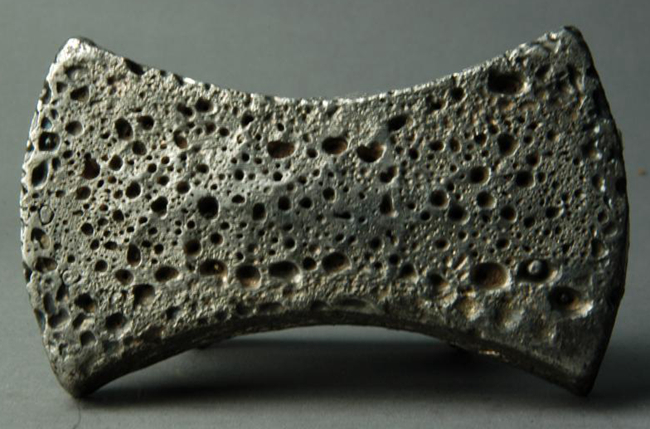 AD 1211 (Jin dynasty, 3rd year of Da'an reign period)
Length 14.5 cm, Weight 925 g
Excavated in Xixia, Henan Province, 1978

This ingot is flat on both sides, with two arched ends and a pinched midsection. The inner section of the front face is slightly concave, with wave patterns around its border. There are inscribed characters at either end of the ingot and around its edge. The middle of the ingot has a relatively deep stamp impression. The inscribed text runs from right to left. The middle of the reverse face is slightly convex. The sides and the rear face of the ingot are honeycomb-shaped around the edge.

The Shihuozhi Jishi (Food section, History of the Jin dynasty) records that the Jie salt is produced in Jiezhou and Anyi in Shanxi. This silver ingot was used as a part of the system of salt control under the Jin dynasty, which established a bureau for Jie salt. On the 12th day of the 2nd month of the 12th year of the Da'an reign period this ingot was cast from salt tax revenues, as a form of officially sanctioned silver.