Anecdotes of Tao Yuanming Handscroll by Wen Zhengming
Source:
Henan Museum
Edit:
acf
Time:
2021.09.27 16:40:43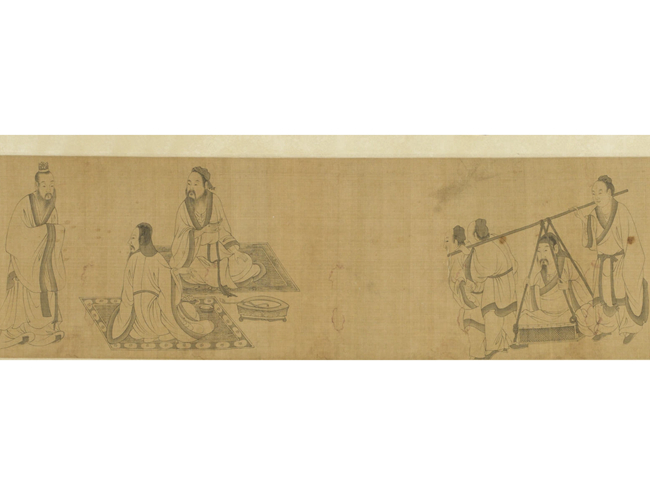 Period: Ming dynasty (1368-1644)
Measurements: H. 24.2 cm, L. 560 cm
Provenance: From the Culture Bureau of Henan province in 1956

Handscroll, Gongbi figural painting, ink and color on silk. The painting depicts the activities of Tao Yuanming, the poet of Jin dynasty, such as visitation, wining, playing qin, 31 figures were shown in total, with stamp and Collector's two seals at the end of it.
Wen Zhengming (1470-1559), original name Wen Bi, courtesy name Zhengming, renamed as Zhengzhong since 42 years old, a native of Changzhou county, Suzhou prefecture (present Suzhou of Jiangsu) of South Zhili; since his forefather originated from Hengshan, thus his art name Hengshan Jushi, commonly known as "Wen Hengshan". He is a prominent painter, calligrapher, litterateur, and connoisseur of Ming dynasty. Thanks to his great achievements in poem, literature, calligraphy, and painting, he was well known for the "Four Wonders", and he was also regarded as one of the "Four Masters of Ming dynasty", along with Shen Zhou, Tang Yin, Qiu Ying in the painting history, and as one of the "Four Talents of Wuzhong", together with Zhu Yunming, Tang Yin, Xu Zhenqing.