Hanging Scroll Sound of Bamboo and Whistles of Pine Forest by Qian Weiqiao
Source:
Henan Museum
Edit:
acf
Time:
2021.07.20 09:41:50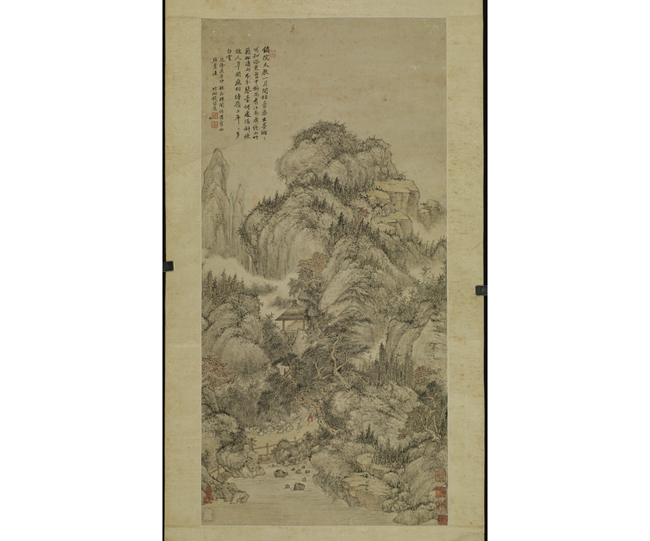 Period: Qing dynasty (1644--1911)
Measurements: 95 cm in height, 46 cm in width
Provenance: Given by the Cultural Relics Working Team of Henan Province in 1953
The Xieyi/freehanded painting depicted in this hanging scroll combines mountains and pines with bamboos in their natural states to circle a centralized pavilion. In an imagined scene, the painter stands inside the pavilion, listening to the whistling wind as it rampages through the forest, groves of bamboos and pines swaying in the breeze with its echoes alike surging waves from the sea; this is how the image of a blustery forest in the mountains has been rendered from this painting. On the upper left corner of the painting is a poem, written by the painter to express his love for beautiful landscapes. He also indicates that he follows the style of Wang Meng (literary name Huangheshanqiao), and the painter's seals of "Zhuchu" and "Qiao".

Qian Weiqiao (1739-1806), literary name "Zhuchu, Banyuan, etc.", a native of Wujin, Jiangsu, extremely talented in poem and painting. What the technique he followed is that of Wang Meng, one of the Four Masters of Yuan dynasty. Wang Meng(1308-1385), literary name Huangheshanqiao, his paintings are characterized by paths that twist and turn, rugged mountains, winding streams, deep ravines, and lush vegetation. These features have clearly influenced Qian Weiqiao's painting style. In Qian's later years, his painting skills were particularly exquisite, and no matter the composition's sparsity, density, or forcefulness, all elements of nature were utterly bent to his will.