Jun Kiln "Moon White" Glaze Lobbed Bowl
Source:
Henan Museum
Edit:
acf
Time:
2021.11.25 16:36:57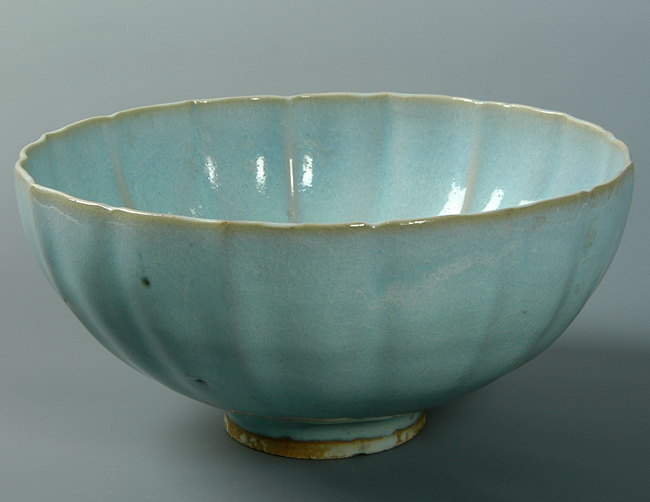 Period: Jin dynasty (1115--1234)
Measurements: Bottom Dia. 8.3 cm, Mouth Dia. 24 cm, Height 12 cm
Provenience: Acquired in Yuzhou, Xuchang, Henan, 1978

With a lobed rim, rounded mouth, petal-shaped deep body, and a small ring foot. The bowl is covered allover with a "moon white" glaze save for the foot, which is covered by a layer of brown protective slip. Five spur marks were found on the ring foot. In general, it has a smooth rounded regular shape, sturdy but vibrant.

Jun ware fired in Jun kilns were one of the important ceramics categorized in North China during the Song-Jin period. Extant archaeological finds show that Jun wares were largely vessels made for the daily lives of civilians; such as bowls, plates, pots, vases, saucers, jars, pillows, incense burners, etc., featuring elegant shapes, glossy glaze, naturally fluid speckles/splashes, and they appear mostly covered entirely with glaze, in some cases, the foot rings remain unglazed, though some foot rings were only coated with a thin protective slip.

In keeping up with the social development, the Jun wares of Yuzhou are also constantly innovative. Nowadays, they not only appear in the ordinary people's houses as ornaments, but also serve as diplomatic gifts that are taken abroad.