Blue-and-white Lotus-shaped Plate with Sanskrit Inscription
Source:
Henan Museum
Edit:
acf
Time:
2023.04.21 09:06:43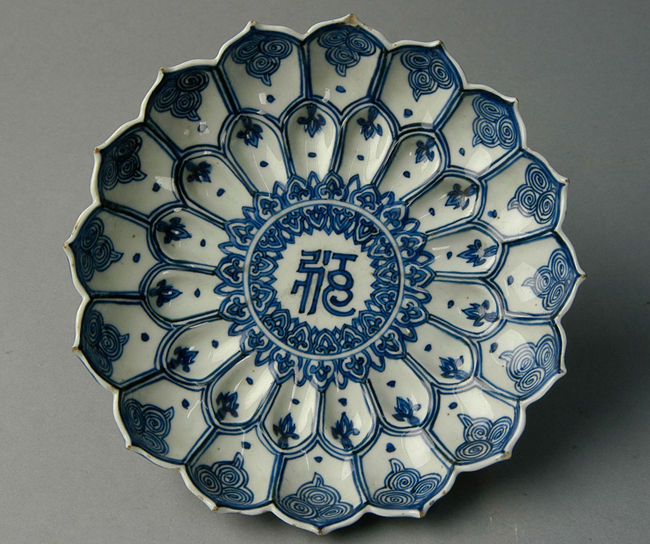 Period: Wanli period of Ming dynasty (1572-1620)
Dimensions: Mouth Dia. 19 cm, Base Dia. 5.5 cm, H. 5.5 cm
Provenance: Acquired upon the governmental notice

Ingeniously crafted, with rich, graceful and bright white and blue decors, a roundel with Sanskrit motif in the center encircled by Ruyi-heads inside and outside. The interior cartouches on the petal-shaped upper layer were painted with spirals, the exterior with Sanskrit and floral sprays. The medallion on the petal-shaped lower layer was painted with stylized pomegranate flowers and fine striations.

Sanskrit is not only the ancient language of India, but also the canon script in Buddhism. Followed the introduction of Buddhism into China, and the translation of Buddhism scriptures, Sanskrit was also introduced. Under the influence of religion, Sanskrit and Buddhist sacred flower "lotus flower" came to be a common decorative motif on varied vessels. The present object was owned by the royal court, and it is a rare porcelain treasure of Wanli period of Ming dynasty. Since Emperor Wanli believed in Buddhism during his reign, the number of the porcelain with Sanskrit motifs dating from Wanli period is the most among the examples from the official kilns of the Chinese dynastic time.