Black glazed ribbed ceramic pot
Source:
Henan Museum
Edit:
acf
Time:
2021.03.16 11:18:49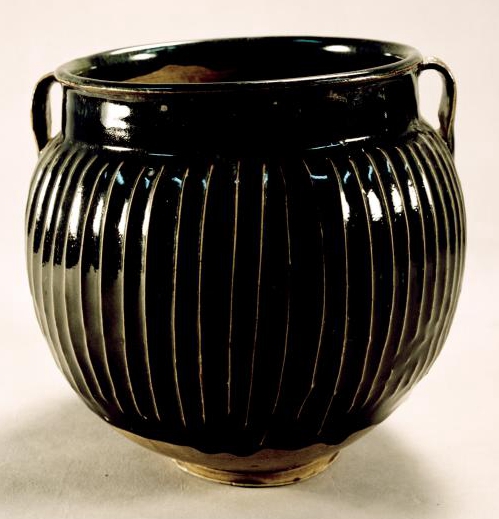 Measurements: Mouth Dia. 17.7 cm, Bottom Dia 9.4 cm, H. 21 cm
Period: Jin Dynasty (c. 1115-1234 CE)
Provenance: Discovered at the site of Hebi Kiln, worker's village of the No.4 Mine, Hebiji township, Hebi, Henan province

Made on a wheel, the pot features a round mouth, a short neck, a ringed foot, two symmetrical loop handles, and ribbed designs on its belly. It is covered in black glaze, save for the inside of its body, which is a dark yellowish pigment instead.

Having emerged during the Eastern Han dynasty, glazed black ceramics saw unprecedented developments in the late Tang dynasty thanks to competitive tea-drinking, which was fashionable at the time. The Jin dynasty saw various colourful glazed ceramics (white, black, reddish-brown, white with black carvings etc.) becoming mass-produced due to its popularity. Most notable was a type of design, glazed almost entirely black with white ribs – this was known to locals as "Fen Gang" (lit. pink pole), and later earned a reputation for this characteristic within ceramic categories in the Song-Jin period.