Brown Glazed Tiger-shaped Ceramic Pillow with Black Decorations
Source:
Henan Museum
Edit:
acf
Time:
2022.03.17 16:15:29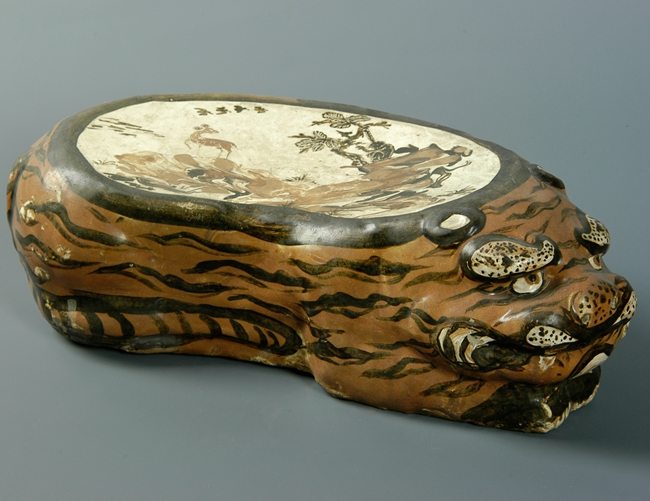 Measurements: Width 15 cm, Length 40 cm, Height 11 cm
Period: Song dynasty (960-1279)
Provenance: Acquired at Ligu village, Xiuwu county, Jiaozuo, 1968

The pillow is in the shape of a crouched tiger, whose body slightly bent, with its head resting on its stretched forelegs, and its tail raised forward and clings to its body. The top of the pillow is slightly concave, glazed in white, and painted in black and brown with rockery, trees, wild goose, monkey, and deer, etc. Apart from that, the pillow was coated with brown glaze, and black lines as the stripes of the tiger. With the shape, glaze color, and patterns, it was an excellent product from the Cizhou kiln.
Cizhou kilns were the largest and most famous private kilns in the north China during Song dynasty, most of the products were daily utensils, of which the most representative items were ceramic pillows, which were characterized by the large quantity, varied shapes and innovative decorations.