"Yan Guang" Terra Cotta Model of Stove with Design of Animal Fighting
Source:
Henan Museum
Edit:
acf
Time:
2021.09.27 16:23:31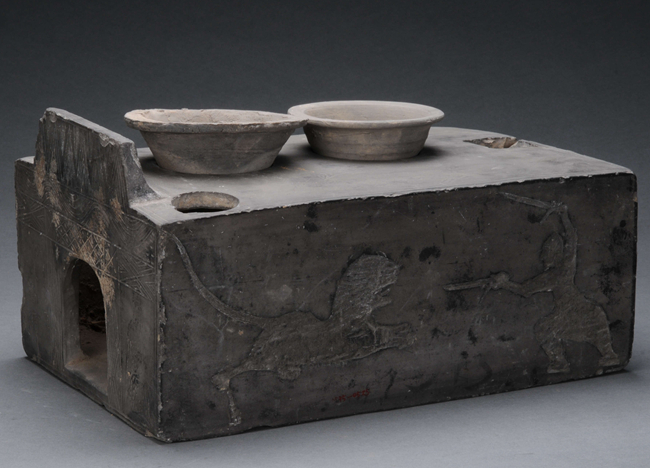 Period:Han Dynasty (202 BCE-220 CE)
Measurements: 19 cm in height, 37.5 cm in length, 25.8 in width.
Provenance: Unearthed from a Han dynasty tomb at Houshiguo of Gongyi, Zhengzhou, Henan

Of a rectangular form, the stove has a semicircular wood entrance, two burners, and attached with two Zeng steamers. Some patterns, such as fish, dancers, and fighting between human figures and beasts were respectively molded on the different sides .
The two characters "Yan Guang", inscribed in clerical script on the facade beside the wood entrance, was the fifth reign title of Liu Hu, Emperor An of the Eastern Han dynasty, which was in use for four years.
During Qin and Han period, under the influence of the customs "even the ghost asking for food" and "one serves the dead as though they were alive", burial goods "Mingqi" were made by imitating the daily utensils and interred with the dead. The present funeral model of the stove not only exhibits the exquisite pottery-making craftsmanship, but also offers a candid glimpse on the lifestyle, kitchen culture, faith, and ideology of Han dynasty.