Grey pottery butcher of goat
Source:
Henan Museum
Edit:
acf
Time:
2021.05.14 17:28:55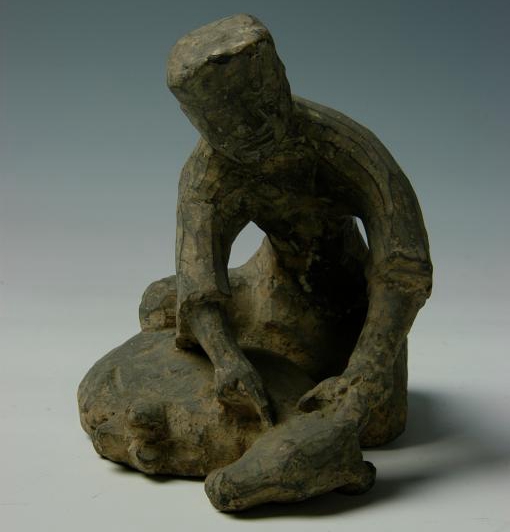 Period: Han dynasty(206 BC--25 CE)
Measurement: H.16 cm
Provenance: Unearthed at the brickyard of Xitou village, Xinzhuang town, Jiyuan city, 1982

Made of gray clay, the butcher was wearing a short  tunic, with sleeves rolled up. His left leg is kneeling on the ground, and his right leg pressed against the tied goat. His left hand grasps the horn of the goat, with a knife in his right hand in a posture of slaughtering the animal. This figurine is presumably made by kneading firstly, followed by trimming, finished with a rustic, but vivid sculpture.

Quite a lot of varied of pottery figurines were unearthed in Jiyuan city, include music and dance actors, Baixi performers, and butchers, showing realistically the social customs and conventions, as well as the aesthetics of the time, are of great academic value for the research on the politics, economy, and cultures of the Han dynasty.