Terracotta Pointed Base Jar with Two Lug Handles
Source:
Henan Museum
Edit:
acf
Time:
2022.06.02 16:30:19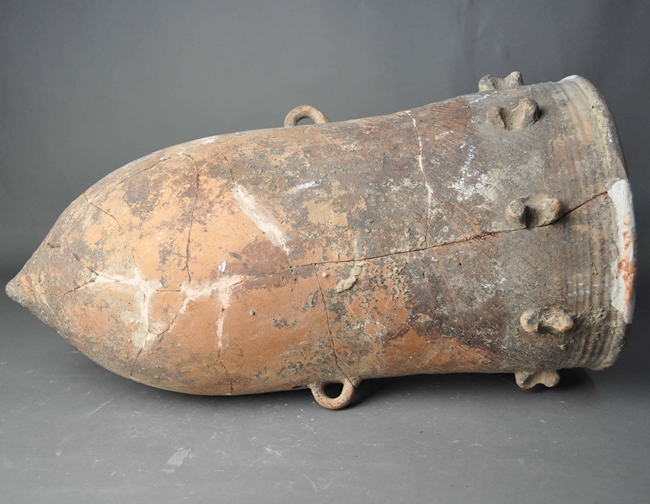 Measurements: H. 55.5 cm, Mouth Dia. 27 cm
Period: Neolithic Yangshou Culture period (c. 5,000--3,000 years BCE)
Provenance: Unearthed at Houwangzhuang village of Zhengzhou in 1958

Made of sand-tempered terracotta, with wide and slightly flaring mouth, thick round rim, under which is a band of cord pattern, and successively a band of 9 U-type knobs, the vessel has its upper part slightly contracted, the lower part a little bit bulging, with two lug handles in the middle.

The Houwangzhang site of Zhengzhou is a primitive settlement dating to the middle to late Neolithic Yangshao culture period, and archaeologically, it is divided into upper, middle and lower phases. The red clay and sand-tempered potteries dominated the excavated potteries from the site, and the potteries are mostly hand-made, by means of reeling and stacking up the clay strips, followed by trimming on the slow wheel. The potteries which were used as urn coffins include not only the large-size base-pointed jars, but also the small-mouthed based-pointed flasks, pots, tripod cauldrons, etc. In addition, the placements of urn coffins and other burial vessels of the different periods are also distinctive: base-pointed flasks and jars are generally placed horizontally, and pots and tripod cauldrons are normally placed vertically.