Models of Grain Processing Complex (a group)
Source:
Henan Museum
Edit:
acf
Time:
2022.06.02 16:44:32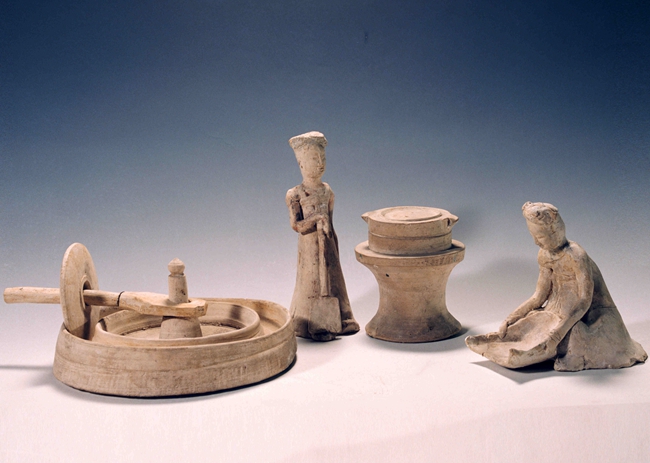 Period: Sui dynasty (581-618)
Measurements: Grinder H. 14 cm, grinding wheel Dia. 15.5 cm, H. of figurine with spade 23 cm, H. of figurine with winnowing pan 16 cm
Provenance: Unearthed from Zhang Sheng's tomb at Yubei Cotton Mill of Anyang, Henan, 1959

The Models of Grain Processing Complex, all made of white terracotta, consist of grinder, grinding roller, figurine with shovel, figurine with winnowing pan. The grinder is comprised of the upper and lower parts, and a hollow waisted pedestal; the grinding wheel features a circular form with a flat base, both of the grinder and the grinding wheel are used for grinding grains. The winnowing pan, was made in imitation of the wicker woven prototype, just like the modern dustpan.

During the Sui dynasty, the grain processing was firstly grinding with mill/grinder for husking, followed by grinding into powder or soupy, the maid with the spade stands there for rounding up or sorting out the grains; the maid with winnowing pan is responsible for fanning the chaff. The pottery grain process complex rendering the stylized grain processing scene of the Sui dynasty,  imbued with the rich flavor of life.