Pottery Owl-shaped Flask with Reddish-brown and Green Glaze
Source:
Henan Museum
Edit:
acf
Time:
2022.03.17 15:59:58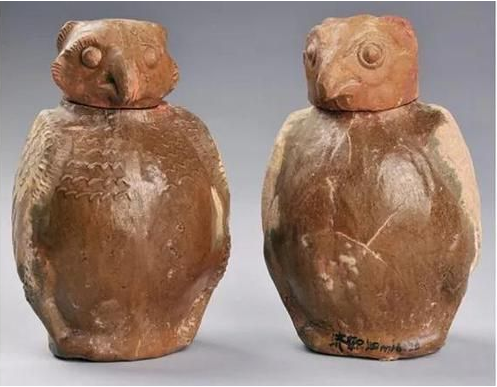 Measurements: Height 17.5 cm, Girth 34 cm
Period: Han dynasty (202 BC--220 CE)
Provenance: Unearthed from the Han tomb at Sijiangou, Jiyuan, Henan, 1969

Made of red clay, the heads were coated with reddish brown glaze, the back and abdomen the green glaze, the wings yellowish green glaze, flat base, and with molded designs to symbolize the feathers. The flasks motionlessly stand in the form of the owl which is quite realistic. The heads of the bird were created as the cover and the body as the flask which is hollow, the movable cover fit ingeniously with the flask.

An analysis on the archaeological finds from the Han dynasty indicates that owl could have been an auspicious symbol at the time, such pottery animal was very important among the burial figurines during the Han dynasty, with a great number of them were unearthed, exhibiting a rich atmosphere of social and natural life, and some of them even were created innovatively in function.