Pictorial brick with portrait of Fuxi and Nüwa entwined with the black turtle
Source:
Henan Museum
Edit:
acf
Time:
2021.05.14 17:30:43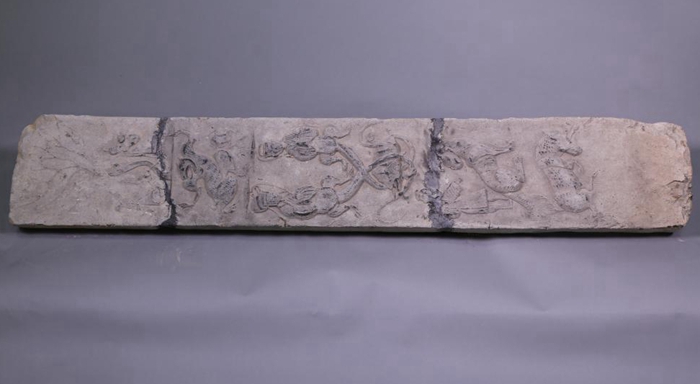 Period: Han dynasty(206 BC--25 CE)
Measurements: Length, 139 cm, width, 22.5 cm, thickness, 5.5 cm
Provenance: acquired at Liuzhuang village,Fanji town, Xinye, Nanyang, Henan, 1972.

Of a vertical strip form, the portrait is designed with vertical registers, both Fuxi and Nüwa hold a canopy respectively, with their dragon-tails entwined a turtle underside. Being the progenitors of the Chines nation, Fuxi is the earliest creating god in the ancient literature, while Nüwa is the goddess who created human being from the earth in ancient Chinese myths. Their intertwined tails are generally believed to symbolize ascending to godhood, longevity, and matching of Yin and Yang.

Han dynasty pictorial bricks are ancient building bricks with modeled, painted, or engraved diverse portraits, include the pavilions, Ques, bridges, and other buildings, chariot processions, music and dance performance, acrobatics, auspicious animals and omens, myths, tales, fantastic plants, etc., they are precious artifacts for the study on the politics, economy, culture, folk customs of the Han dynasty.