Colored Pottery Model of House
Source:
Henan Museum
Edit:
acf
Time:
2022.08.31 17:15:49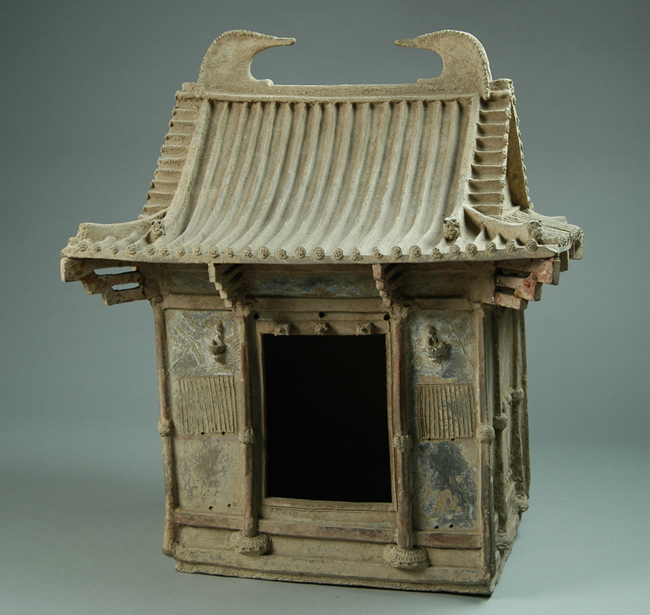 Period: Sui dynasty (581-618)
Measurements: H.76 cm, W.53.3 cm, Base L. 46.2 cm, W. 35.6 cm
Provenance: Previous Collection

Created in the form of the gable roof with mono-eave and nine ridges, the house, with hard texture, is grey in color, its interior is divided into three chambers horizontally as well as longitudinally. The door, windows, columns, dougong brackets, beams, plinth timbers were all painted in crimson, door leafs in vermilion. The door was created on the facade as the entrance, other doors were rendered on the other three sides by following the prototype of the plank-made door leaf (Shitamen) with knocker nails, knocker ring, and fish-shaped handle. Dougong brackets were supported by transverse beam which was supported by eave columns and corner columns. One sculptural mythical beast sits on the either end of the roof ridge. The the ends of the slope ridges and side ridges were all embellished with tiger heads. The ridges and the roof were all carved as indication of rows of tile.

In Chinese history, Sui dynasty is a connecting period between its predecessor the Northern and Southern dynasties, and presided, and the ensuing Tang dynasty, it is short-lived, only existed for 37 years, additionally, due to the frequent wars, architectures of Sui dynasty barely survived, even the funeral pottery mini buildings were archaeologically rare, so the present pottery mini building of the Sui dynasty is much more precious. Being realistically created, it not only retains some architectural traits of the Northern and Southern dynasties and Han dynasty, but also inaugurates the buildings of the Tang and Song dynasties, epitomized the evolvements of ancient architecture in China.

This mini building resembles its contemporary Japanese architectures, the Main Hall (Kondō, aka Golden Hall),  Five-Story Pagoda, Tamamushi Shrine in Horyuji Temple, exhibiting the far-reaching influence of ancient Chinese architecture on Japan.