Lu Xun's Art World--Exhibition on the Collections from Beijing Luxun Museum
Source:
Henan Museum
Edit:
Zrr
Time:
2020.12.26 10:00:33
Lu Xun (1881-1936), originally named Zhou Zhangshou, later renamed Zhou Shuren, was born in Shaoxing, Zhejiang Province. "Lu Xun" was the pseudonym he used when he published A Madman's Diary in 1918, which was also his most influential pseudonym.
As one of the figure of China in the 20th century, Lu Xun's charisma of personality and ideology made a big difference to China for almost a century. In addition to writing and translation, Lu Xun spent most on art activities. What Lu Xun loved most in his childhood were picture books,he liked to make copies in picture books and buy art books and other books with illustrations. Then grown to an adult, Lu Xun collected a large number of paintings, steles and rubbings of Han portraits for academic research. In the last ten years of his life, Lu Xun devoted himself to editing and publishing art books and periodicals and introducing foreign art. He also spared no effort in advocating new wood carvings in China.
In 1913, in his article titled Opinions on Spreading Art, Lu Xun pointed out three elements of art, "the firs is nature; the second is mind; the third is embellishment." He added, "art means to beautify nature with human thinking. If it conforms to this principle, no matter which forms it is expressed, such as sculpture, paintings, articles, architecture, music and so on, it can be called art".
If writing is a struggle against suffering, translation may be lubrication of pain, while the lifelong love of art is the source of his happiness.
The exhibition display is divided into four parts, namely, traditional art, emerging prints, rubbings of metal and stone, and calligraphic works. There are about 140 (sets of) precious cultural relics in Beijing Lu Xun Museum, showing the rich and colourful art world of this literary master to the world from many aspects.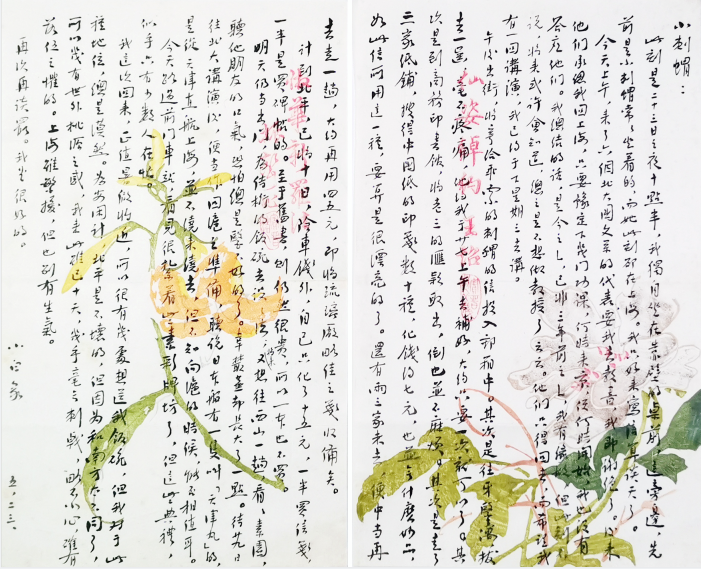 Letter from Lu Xun to Xu Guangping in 1929