A Glorious Homecoming-An Exhibition of Exquisite Brocades of Qing Dynasty
Source:
Henan Museum
Edit:
Zrr
Time:
2016.12.30 09:00:22
2017 marks the 90th anniversary of the establishment of the Henan Museum. To celebrate the dawn of this occasion, the sister museums across the Taiwan Strait held an exhibition named A Glorious Homecoming-An Exhibition of Exquisite Brocades of Qing Dynasty  to jointly recall the profound and close historical origins to meet the long-held expectations of people.
When the Henan Museum was newly established, it collected a batch of brocades of Qing Dynasty, which were exceptionally valuable with dazzling colors. According to the classification of our collections at that time, these brocades were all listed under the name of "Yue". With the outbreak of the War of Resistance Against Japanese Aggression in 1937, these brocades, along with other cultural relics of the Henan Museum, embarked on a long journey to the south region of China.Due to the change of political situation,the brocades have been tossed in Hankow,Chongqing and other places and was moved to Taiwan in 1949. Finally,the brocades was collected by the Taipei History Museum in 1956. These brocades witnessed the twists and turns of history, the bumpy development of the Henan Museum in its early years, and the heroic feats of museum staff, represented by Wang Youqiao and Zhao Xishi, who protected national treasures at the risk of their lives.
The 52 exhibits displayed in this exhibition were all meticulously selected by colleagues of the Taipei History Museum from these Henan "Yue" brocades that were initially transported to Taiwan from Henan province, including many of the finest products of the three Imperial Weaving Bureaus in south of the Yangtze delta region. They were made either by royal craftsmen or by non-governmental weavers, featured by rich colour, complex weaving techniques and unique patterns, and reflected Chinese history and culture, religion and ethics, as well as knowledge of production and life. We expect visitors to appreciate the humanistic aesthetics and spirit of Chinese culture through the beautiful colour and the various designs with symbolic meaning of the brocades.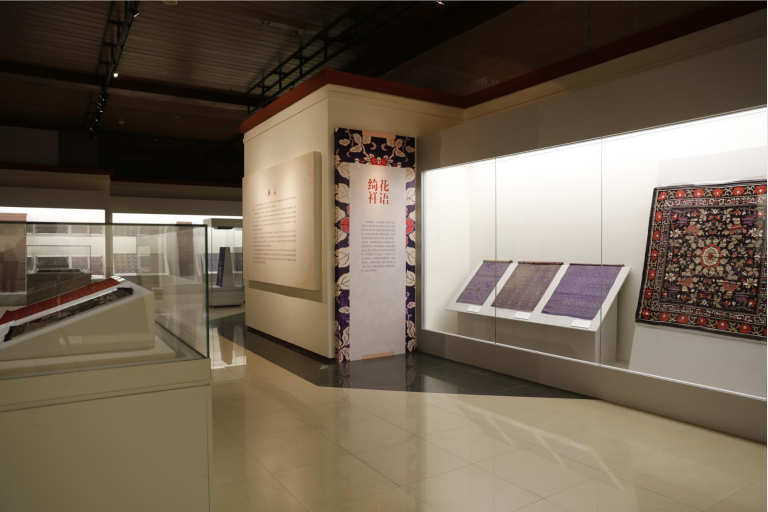 Silk is an important invention of ancient China, and the Central Plain is the birth place of silk. Silk fabrics were unearthed at the Qingtai site of the Yangshao Culture in Zhengzhou, which had a history of more than 6,000 years. And the Central Plain had been the core region of silk production until the Song Dynasty. With the opening and expansion of the Silk Road, silk, like a beautiful tie, connects the kind hearts and expectations of people around the world.
The homecoming of the brocades, which were shipped to Taiwan 67 years ago, coincides with the rise of Chinese nation and the moment when the people across the Taiwan Strait are looking forward to the realization of Chinese dream, whereby it's a glorious homecoming indeed.