The Painting of the Buddhist Realm-- Exhibition of the Mahamayuri Vidyarajni Sutra
Following the successive exhibitions of the Jiahu Bone Flute and the Changxin Palace Lamp, a new treasure, the Mahamayuri Vidyarajni Sutra, debuted in the gallery of the "National Treasure Special Show" at the third floor of the main exhibition hall of Henan Museum.
The Mahamayuri Vidyarajni Sutra, in short, the Peacock Sutra, in the collections of Henan Museum, translated by Bukong, a monk of Tang dynasty(618-907 AD), consists of three volumes, which include 195 colored woodblock painted illustrations of Buddhist scripture in total, which varied in size. Over one thousand Buddhist gods depicted feature divers realistic postures. The illustrations are characterized by spectacular scenes, elaborate configuration, bright colors, demonstrating the superb drawing skills.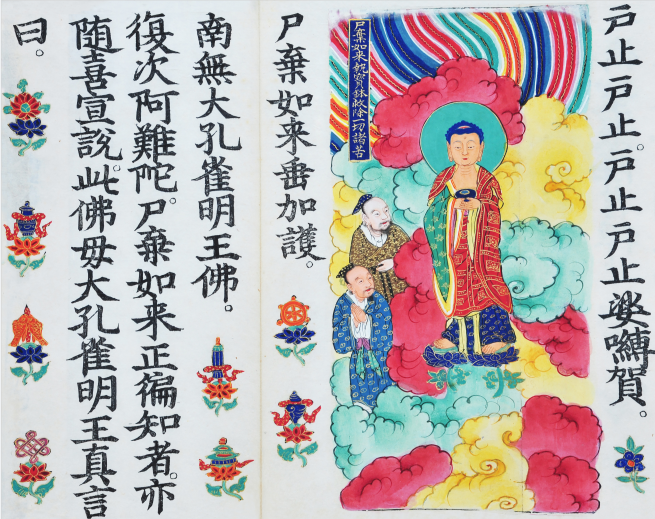 History
Being one of the earliest Esoteric Buddhist sutra introduced to China, it was firstly translated into Chinese by Po-Śrīmitra, a prominent monk of the West Region, in the first year of the Jianwu period in the Eastern Jin times(correspond to 317 CE), which marked the beginning of the translation of Esoteric Buddhist classics(in China). In total, there are six Chinese versions, of which, the one translated by the Tang monk, Bukong, is the most prevalent.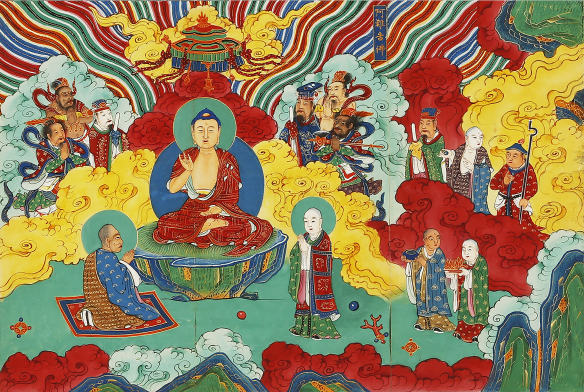 Woodblock Printing
In the history of the woodblock printing, the Buddhist influence is extremely crucial. The great amounts of the Buddhist scriptures and illustrations printed with this technique in the earliest phase became the primary driving force for the finalization of woodblock printing technology. The Ming Dynasty(1368-1644 AD) was the golden age for the development of printing Buddhist scripture, and its exquisite engravings and paintings had reached its zenith. According to research, "The Mahamayuri Vidyarajni Sutra" in the Henan Museum was originally printed by Tian Youze on his sworn, an eunuch officer of the Storehouse for Confiscations and Forfeits, under the Internal Official(Eunuch) Commission in the Ming Dynasty.
Versions
The exhibited Mahamayuri Vidyarajni Sutra was a colored woodblock painted Buddhist scripture, which was created by printing the texts and illustrations on the Xuan paper in colored inks firstly, and finalized by filling or drawing different colors in the illustrations based on the scenes. Comparatively, ink-printed versions denote the black-and-white prints without filling the colorants.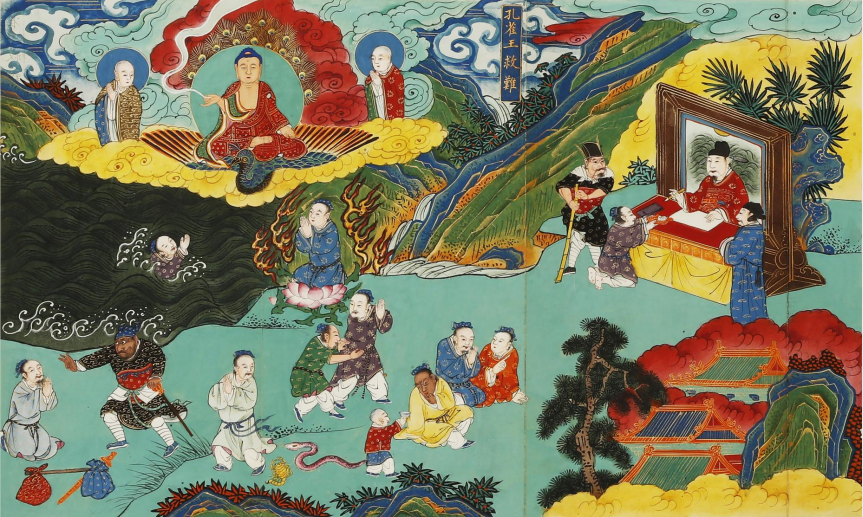 The displayed contents and woodblock prints of the Mahamayuri Vidyarajni Sutra demonstrates the history, Buddhist woodblock printing and its varied versions, providing the viewers with interpretations of the profound implications of the Buddhist art.