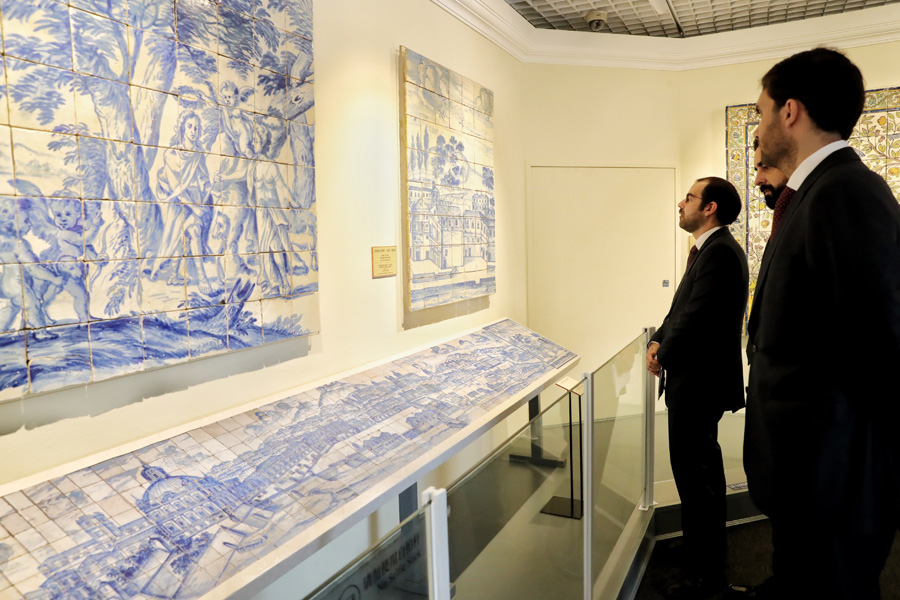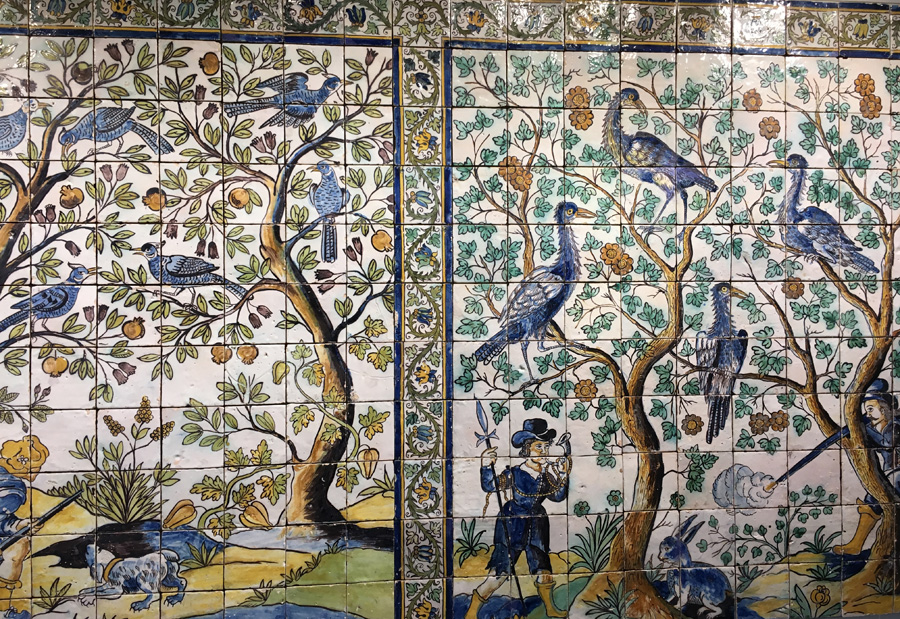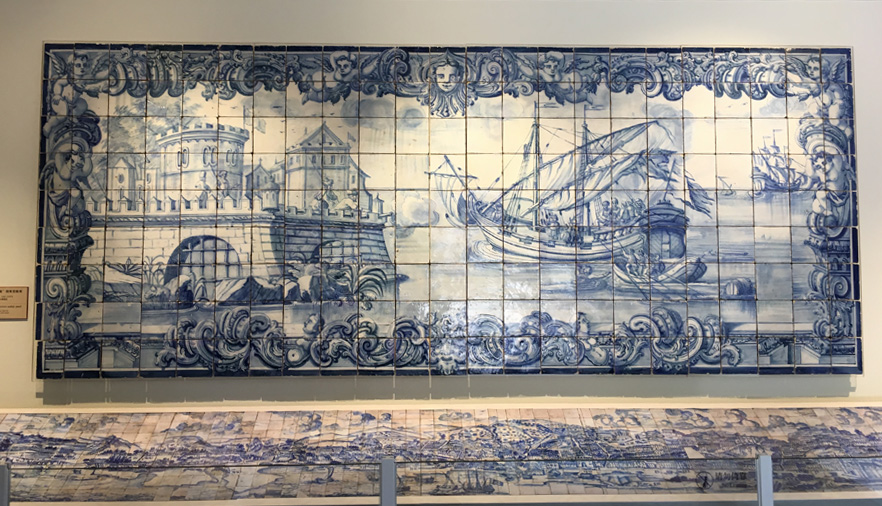 Attack on the Fortress, an azulejo panel from between 1730 and 1750 on display at the Beijing exhibition, shows Chinese blue-and-white porcelain's influence on the Portuguese art form. [Photo by WANG KAIHAO/CHINA DAILY]   

China and Portugal are jointly hosting a show of azulejo art in Beijing as part of a diplomatic anniversary, Wang Kaihao reports.

Chinese palatial architecture suffused in splendor and mixed with the sights of city streets bathing in the sunshine of southern Europe is what this exhibition gives visitors at first glance.

The Land of the Glazed Cities: 500 Years of Azulejo in Portugal was unveiled on June 11 at the Palace Museum, also known as the Forbidden City, in Beijing.

In Portuguese, azulejo refers to artworks on glazed ceramic tiles. The exhibits also tell how porcelain, which is rooted in China, grew into another medium of artistic expression on the other side of the Eurasian landmass, thanks to cultural communication over half a millennium.

People visit the ongoing show, The Land of the Glazed Cities: 500 Years of Azulejo in Portugal, at the Palace Museum in Beijing. [Photo by JIANG DONG/CHINA DAILY]   

"While it is true that the Portuguese did not invent azulejo, it is no less true that in Portugal this ceramic manifestation has gained unique forms that transcend its utilitarian and decorative functions," says Maria Antonia Pinto de Matos, director of the Lisbon-based National Azulejo Museum of Portugal, which is hosting the exhibition jointly with the Palace Museum.

"It has become a major art form that is distinguishable," she says.

"In Portugal, azulejo art is everywhere, from the simple presence of undecorated examples to the most elaborate iconographic programs, so we can say it is a land of glazed cities."

The 50 or so exhibits, which are made of more than 5,000 ceramic tiles, show that azulejo is ubiquitous in Portugal, both geographically and chronologically. From a piece of early 16th-century polychrome enamel, the glazed panels take visitors through the following centuries in palaces, cathedrals, residences and building facades in Portugal.

Some 19th-century panels that adorned restaurants depict vivid scenes of sausages being smoked in kitchens.

Many of the other exhibited works come from subway stations, where generations of people examined them while waiting for their trains.

Grand Panorama of Lisbon, which was created around 1700 and is one of the most important collections in the National Azulejo Museum of Portugal, is also in Beijing. It portrays landmarks in Lisbon, including St. George's Castle, the Monastery of Jeronimos and the Tower of Belem.

Nevertheless, azulejo art is not limited to nostalgia.

The modern exhibits of the show have been donated by artists, who have gone beyond traditional themes like religion and landscapes to explore more experimental patterns of contemporary art. New approaches and materials like photomosaic techniques used to make plaques in relief, and copper-mound have created new areas of expression.

This year marks the 40th anniversary of the establishment of diplomatic relations between China and Portugal, and the 20th anniversary of the return of Macao. The ongoing exhibition is a key event in a series.

An exhibition of the Palace Museum, The Forbidden City and The Maritime Silk Road, was held in Lisbon from last December to this March. President Xi Jinping and his Portuguese counterpart, Marcelo Rebelo de Sousa, visited the exhibition during Xi's state visit to Portugal last year.

The exhibition in Beijing runs through Oct 7. Wang says its history provides for "new chapters" in the Belt and Road Initiative.