Historical figures
Source:
河南博物院
Edit:
Chend
Time:
2019.06.18 10:05:23
Views: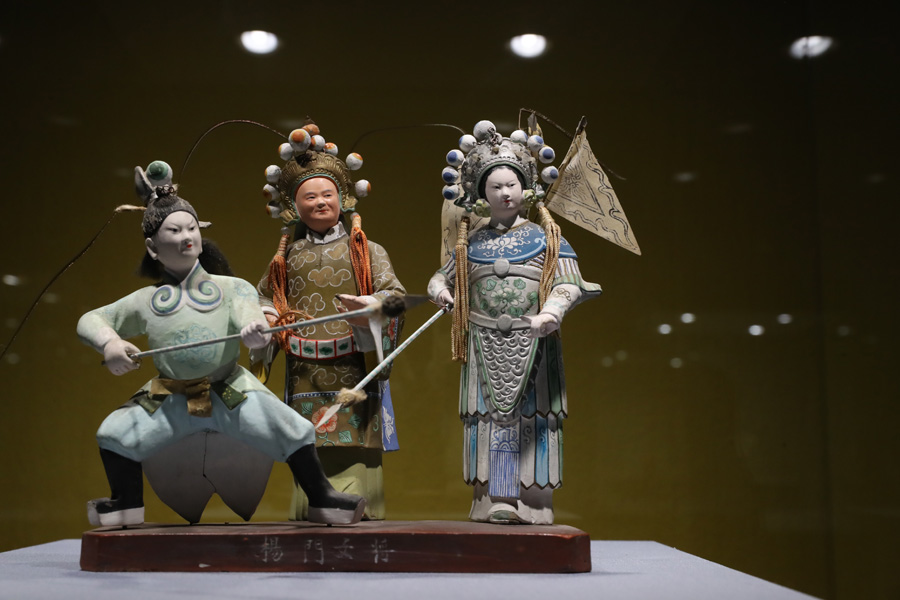 Historical figures


By Lin Qi | China Daily | Updated: 2019-06-18 08:02       

Figurines recreated from the local opera Heroines of the Yang Family by an anonymous artist in the early 20th century are displayed at the exhibition, The Life of Clay, which ended in Beijing on Sunday. [Photo by JIANG DONG/CHINA DAILY]  
Retrospective examines the legacy and craftsmanship of Huishan's traditional clay sculptures, Lin Qi reports.

Both hailing from Wuxi, Jiangsu province, Yu Xianglian, 79, and Wang Nanxian, 78, grew up steeped in the rich local tradition of sculpting clay figurines-a skill that first emerged and flourished in Huishan, a town to the west of Wuxi, during the Ming Dynasty (1368-1644)-yet, the pair experienced two very different childhoods.

Yu lost her father at the age of 6 and had to help her mother, a clay artisan, at the family workshop, while Wang was raised in a well-to-do family that opened a tea house and a shop selling arts and crafts.

Yu wanted to be a tractor driver but failed the entrance exams to an agriculture school; she was admitted to a training school for young clay artisans so that she could land a stable job to support her family. Wang enrolled in the same school because of her interest in the clay figurines that were popular among customers at her family's shop.
At the school, the two young women excelled, with Yu being incredibly adept at sculpting and Wang showing a skill for coloring. And they began a collaboration that would last another four decades before they retired in the early 1990s.

Clay figurines coproduced by the duo, from children's toys to ornamental opera characters, are considered to be ambassadors of Huishan's clay art-they are instantly recognizable and highly sought after among museums and private collectors of folk art.

A selection of their work was on show, among a dozen other pieces in the medium, at The Life of Clay, an exhibition at the National Art Museum of China which ran through Sunday. The show paid tribute to Huishan's heritage of clay sculptures, with the earliest objects on display dating back more than 100 years.

The first mention of clay figurine crafting in Huishan can be found in Ming literature, although folk tales trace its origins back much further.
Some believe Sun Bin, a strategist living during the Warring States Period (475-221 BC), was the first person to use the smooth, fine black clay in Huishan to sculpt. Sun was framed by his rival and accused of treason, left crippled by his punishment, before escaping to Huishan where he made a living by sculpting the clay figurines, while helping to spread the craft.

The trade of clay sculptures in Huishan reached its height in the mid-to-late Qing Dynasty (1644-1911), and many workshops prospered. Craftsmen also looked after ancestral temples, or worked on farms.

Two types of clay sculptures were popular: one was children's toys, often called shuahuo (goods for play) or cuhuo (rough products), because they were simply made, and were usually models of cats, buffaloes and Afu, a chubby, joyful baby who often holds in its arms an animal of auspicious implications, such as a fish. The other was opera characters called xihuo (refined products), as they required more sophisticated techniques to manufacture and contained vibrant colors. They normally catered to rich families looking for decorations during festive occasions.