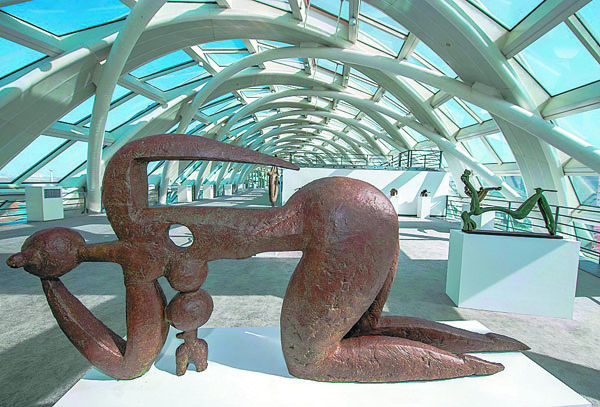 Han's works at the exhibition also show his understanding of tai chi and Chinese calligraphy. 
At 83, Chinese artist Han Meilin says he "must march on".
Han, who created Fuwa the mascots of the 2008 Summer Olympics in Beijing, is known for his productivity and diligence. And his works include paintings, sculptures and graphic and product designs. Also, he has tried out various materials for art and craft, such as bronze, clay, wood and silk.
His calendar for this year is full.
He designed a set of two stamps to mark the Year of the Pig in 2019, which were issued by China Post in January. And he held a solo exhibition on the Chinese culture of shengxiao, zodiac animals, at the Palace Museum in January and February.
Han is now exhibiting 80 bronze and iron sculptures at Infinite Aesthetics, a one-man show at Beijing's Phoenix Center, through May 7.
The works showcase the cultural elements of Chinese ethnic groups, which he has used for inspiration over the years. And they also show his recent explorations of the abstract style that he has incorporated with his understanding of tai chi and Chinese calligraphy.
After Han was commissioned to design the Year of the Pig stamps last year, he drew hundreds of drafts. And he spread them over the desks, chairs and the floor of his studio in Beijing, and then joked on his Weibo account that the studio had become "a pig farm".
A dozen of the sculptures at the current show are modeled after some of those designs.
The sculptures were at the heart of Han's exhibition at the Palace Museum, which coincided with Spring Festival and attracted some 500,000 visitors in 45 days.
These pig sculptures bear a variety of patterns, which Han picked up from ethnic groups over four decades.
The patterns come from a project called Art Caravan, which started in the late 1970s.
Then, as part of the project, he traveled with his friends and students to remote villages inhabited by ethnic groups. And it was these extensive journeys that enabled him to build an abundant trove of pictorial elements from ethnic outfits, daily-use objects and ceremonies.
"There is still much room for me to progress (in painting and sculpting pigs)," he says.
His other works on show are reminiscent of the smooth movements when one practices tai chi or when one wields a brush to produce energetic strokes of calligraphy.
These works are imbued with poetic elegance and a historic depth.
As for the future, he says his approach to art is not diverse enough.
"I have to catch up with others. I have a lot of things to learn. For example, I've been thinking about the influence of mobile technology," he says.
"As an artist, it is never too late to evolve and keep pace with the times."