the lamp of Changxin Palace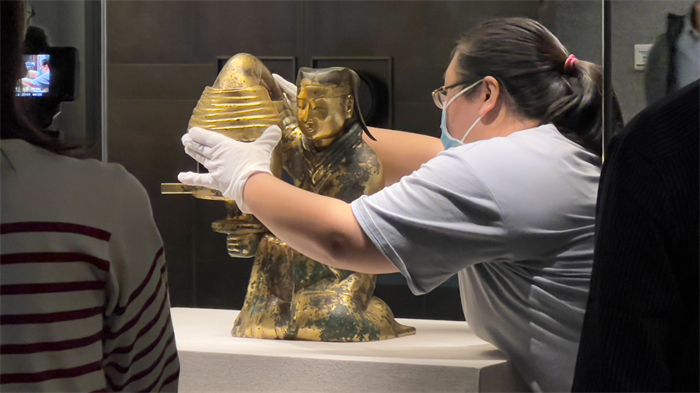 "The lamp of Changxin Palace"comes to Henan Museum.
On the up-coming National Day, Henan Museum will launch a special exhibition of "National Treasures"--"The lamp of Changxin Palace" Exhibition. 

The Lamp of Changxin Palace on display this time was unearthed from the tomb of Dou Wan, Mancheng County, Hebei Province, 1968. Douwan was the wife of Liu Sheng of the Western Han Dynasty (206 BC-AD 25) .Now it is collected in Hebei Museum. 
 
This lamp is 48cm high with the whole body gilt, and comprised by 6 parts: head, body, right arm, lantern holder, lantern pedestal, lantern shade. The lamp is inscribed with 65 characters in 9 places throughout its body, and is named "Changxin" because of the inscription "Changxin Bath" at the bottom of the lamp base. It has three main special features: first, the brightness and direction can be adjusted; second, the unique environmental design concept, and third, the exquisite gilding technique.  

The exhibition will be held from September 30 to October 30, 2021. 

Some details:
The discovery of the Han tomb in Mancheng in 1968 brought this bronze lamp back to life. Thanks to the exquisite craftsmanship in Han dynasty, it still glittered and elegantly, even though it has been with its master underground for more than 2,000 years. Through the millennium, when its light reappeared, the world was amazed at its beauty and wisdom, and hailed it as the "The No.1 Lamp of China". 

A figure of a beautiful lady and a lamp –The Lamp of Changxin Palace– reflecting the refined and exquisite life of Han dynasty. With low brows and a peaceful demeanor, she sits on her knees for thousands years, lighting up a dark night 2,000 years ago, guarding a beam of light-- Han Dynasty's advancements of art and technology. 

It is reported that as many as 10,000 pieces of cultural relics were excavated in the Han Tomb, Mancheng, Baoding City, Hebei Province in 1968: bronze, iron, pottery, gold, silver, jade and stone artifact, lacquer and some other relics. They were all basically well preserved, that was very rare among previously in the excavation of Han tombs. So that this archaeological excavation aroused a great attention from the archaeological circles at home and abroad, and rated as one of the 100 great one of the 20th century in China.