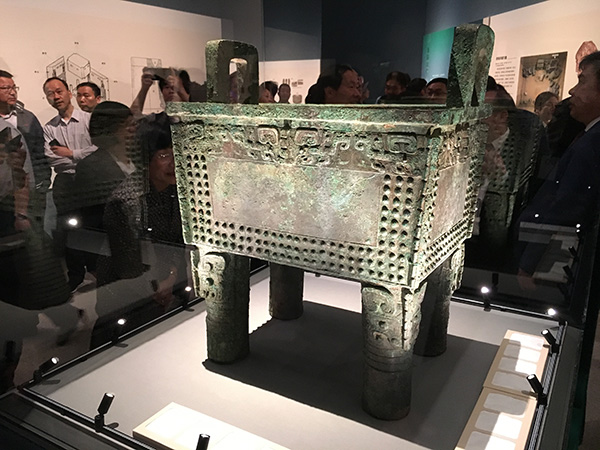 By Wang Kaihao | China Daily | Updated: 2019-05-22 15:38  
Simuxin ding (bronze cauldron) from a queen's tomb in the Shang Dynasty (c.16th century-11th century BC) in Anyang, Henan province, is one of the biggest bronze wares ever excavated in China.[Photo by Wang Kaihao/China Daily]   

More than 36,000 bamboo and wood slips, which were used as the main medium for writing in China before the invention of paper, were unearthed from the small town in Hunan, offering an encyclopedic record of society during the time of the emperor's reign.

As an example of ancient Chinese craftsmanship, an ox-shaped lamp from the Han Dynasty (206 BC-AD 220) unearthed from Yangzhou, Jiangsu province, is another exhibit. A clever blend of form and functionality, it has small chimneys hidden in the horns of the ox.

"This shows that even ancient people cared about the air quality at home," Li says.

And a painting drawn on a silk burial garment, another Han Dynasty artifact, is one of the best-known items of the Hunan Museum's own collection. Offering an insight into how ancient people regarded the afterlife, a dead woman is depicted being escorted to heaven by three handmaidens.

A Song Dynasty (960-1279) seated ceramic statue of the Guanyin bodhisattva (Goddess of Mercy) reflects how Chinese elements evolved in Buddhism after it was introduced from India. Avalokitesvara, the prototype for Guanyin, represented as a male in India, changed into a female during the Song era.

Drinking tea is an important tradition for Chinese people. But back in the Tang Dynasty (618-907), people preferred to "eat" tea by milling down the leaves into powder. This practice is reflected in the exhibition by the inclusion of a silver roller created using state-of-the-art craftsmanship, and was later offered as a tribute to a Buddhist temple.

"This artifact was also used by the Tang royal family then," Li explains.

With the arrival of the Song Dynasty, tea preparation competitions became an increasingly popular urban pastime. In one Song painting from the Museum of Heilongjiang Province, six men are seen vying to make the best tea, yet the winner is hard to define from their facial expressions.

Two important works were not able to attend this banquet of cultural relics.

While the whereabouts of the original Lanting Xu (Preface to the Orchid Pavilion), a masterpiece of calligraphy by 4th century guru Wang Xizhi, remains unknown, the piece still enjoys the highest reputation among works of Chinese calligraphy lost to history.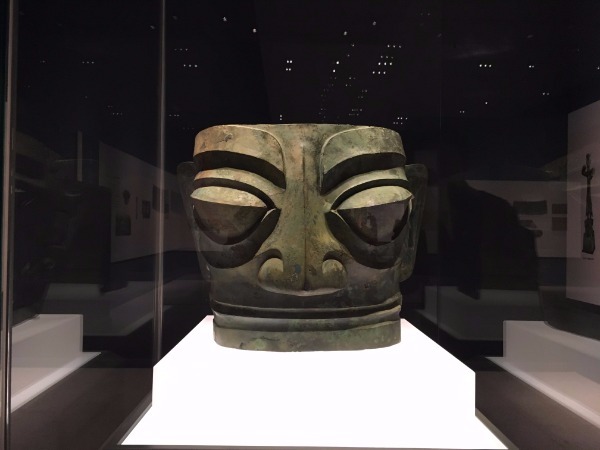 A mask from the Sanxingdui site in Sichuan province used for sacrificial rituals stands for a bronze civilization dating back over 3,000 years.[Photo by Wang Kaihao/China Daily]   

An exhibition running at the Hunan Museum is offering unprecedented access to an array of national treasures gathered from different corners of China, Wang Kaihao reports in Changsha.

A 5,000-year-old jade cong used in rituals of Neolithic Liangzhu culture in today's Zhejiang province may hold the key to unlocking the splendor of the lost and once influential civilization.

Often called the "king of cong" for its size, exquisite decorations and numerous emblems, like other cong, this jade piece forms a tube with a circular inner section and a square outer section.

While some Western scholars may still doubt whether a Chinese civilization from this time could rival cultures that had developed complex metallurgical technologies like Mesopotamia or Egypt, this object not only represents a flourishing state during China's "jade age", but also offers up something of a natural response.

While just 30 cultural relics from over the ages went on display on Saturday at the Roots and Spirits: The Story of Chinese Civilization exhibition at the Hunan Museum in Changsha, marking International Museum Day, the artifacts have such a network of knowledge woven into them that they can be used to retrace how China's early people formed and evolved over millennia.

"From the oceans of civilization, we chose just 30 milestones," Li Jianmao, deputy director of the Hunan Museum, says. "They carry a nation's history, and stand for our people's roots and spirit.
"To be frank, you would have to wait a very long time before you see another exhibition featuring such a star-studded lineup of national treasures from all around the country," he adds.

And he is not exaggerating.

While cultural relic exhibitions touring overseas often present a range of different eras of Chinese history over the ages to offer the foreign public a snapshot in time, domestic visitors are less used to seeing show that spans millennia - other than the permanent Ancient China exhibition at the National Museum of China in Beijing.

The exhibits appearing in Changsha have been loaned by 23 museums nationwide, and the show will run for two months.

Other than the main jade piece, many of the exhibits also frequently appear in school history textbooks.

For example, a square container from the Qin State during the Warring States period (475-221 BC), which is on loan from a collection at the Shanghai Museum, is the earliest-known archaeological evidence of a national standard measuring instrument.

According to its inscriptions, the measuring device was manufactured in 344 BC and used by Qinshihuang, the first emperor of China, as the uniform scale for the entire nation in 221 BC when he conquered the other warring states and united the country.

Some examples of government documents, which were unearthed from Liye town in Xiangxi, Hunan province, also tell how Qinshihuang tried to realize his political ambitions by promulgating a new series of laws.
And Along the River During Qingming Festival, the Song Dynasty landscape painting depicting the prosperity of Bianliang (today's Kaifeng, Henan province), then the national capital, remains China's best-known drawing. However, this item held in the Palace Museum in Beijing is regarded as too precious to travel.

But the exhibition curators came up with some good ideas to make up for their absence.

A Tang Dynasty facsimile of Lanting Xu from the Hunan Museum offers a taste of the romantic notions oozing from Wang Xizhi's pen. And in the Ming Dynasty (1368-1644) version of Along the River During Qingming Festival from the Liaoning Provincial Museum, painter Qiu Ying uses a similar layout to the original work to portray his hometown of Suzhou, Jiangsu province.

The exhibition also explores the influence that the artifacts had on fine art and future society.

"Using a horizontal timeline, we compare the exhibits to other similar items from their era," Chen Yuanping, director of the Hunan Provincial Cultural Heritage Administration, says. "Thanks to this multidimensional approach to explanation, each artifact becomes a single point in a vast network, which inspires us to think of its legacy today."

He continues: "The development of modern society requires us to seek references from the past."

This idea in some way also echoes the slogan for this year's International Museum Day, "Museums as cultural hubs: The future of tradition".

The Hunan Museum was also the main venue for celebrating International Museum Day in China, which was launched by the International Council of Museums in 1977 and falls on May 18 every year.

China had 5,354 registered museums at the end of 2018, 218 more than the previous year, drawing 1.12 billion visits last year, an increase of 100 million from 2017, Liu Yuzhu, director of the National Cultural Heritage Administration, said at the Museum Day event in Changsha.

Over 4 million visits have gone to Hunan Museum alone since December 2017, when a new wing opened.

Nearly 90 percent of Chinese museums are open to the public for free, Liu adds.

Liu says: "Visiting museums is a popular choice for Chinese people now to spend their holidays ... cultural relics help people to form a stronger national identity.

"And museums have also become guest rooms for us to present a global image of our country and enhance mutual understanding and learning among different civilizations," he says.

Suay Aksoy, president of the International Council of Museums, says in a letter to the ceremony: "China's rapid development in the museum sector over the last decade has greatly benefited the preservation of Chinese cultural traditions and secured them a sustainable future, and this is greatly appreciated by the international museum community.

"Given the country's thriving museum scene, Chinese museums have the remarkable potential to realize their role in society."