Lidded Bronze Ritual Food Container with Panchi Dragons (Dui)
Source:
Henan Museum
Edit:
acf
Time:
2023.02.01 11:05:30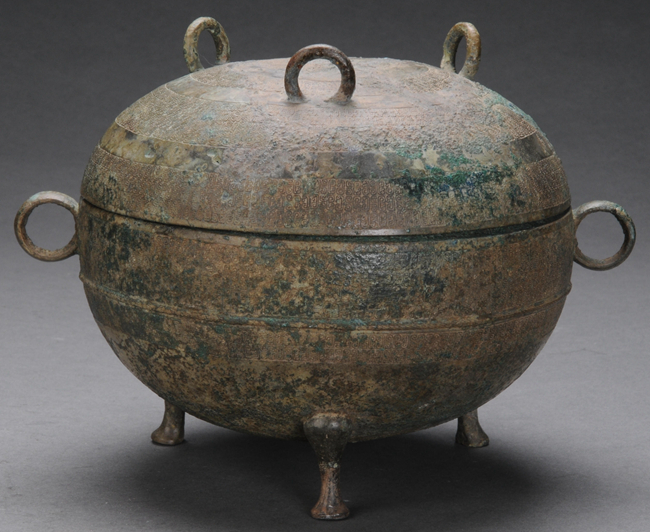 Period:The Spring and Autumn (770-476 B.C)
Measurements: H.18cm, Mouth Dia. 17.5 cm
Provenance: Unearthed from the Tomb Jia(No.1) at Liulige, Huixian county, Xinxiang, 1936

Of a compressed globular form, the domed lid has three rings. The body of the vessel, resembling the basin, is slightly bulging, with two loop handles at the upper part, under which is a band of raised cord design. The vessel was decorated with six fine interlocked dragons, and is raised on three short hoof legs.

Dui, a food container, appeared in the Eastern Zhou dynasty as one of the bronze ritual vessels, which was roughly round up and down in shape, globular or oval when lidded, with two handles and three legs.

Huixian county, known as "Gong" in the ancient times, was under the jurisdiction of the Wei state in the Spring and Autumn period, and also the fiefdom granted by the Zhou court to one of the royal members. The tomb Jia (No.1) at Liulige was relatively large in size, thus in total, 7 principal tripod cauldrons, 9 side tripod cauldrons were uncovered, they were inconsistent with rules of the cauldron-deployment for the Zhou royal princes. Based on these factors, it was ascertained that the tomb occupant was the king of the Wei state.