Hanging Scroll Rock and Peony after Old Master by Huang Ding & Li Zhishi
Source:
Henan Museum
Edit:
acf
Time:
2023.02.28 11:19:12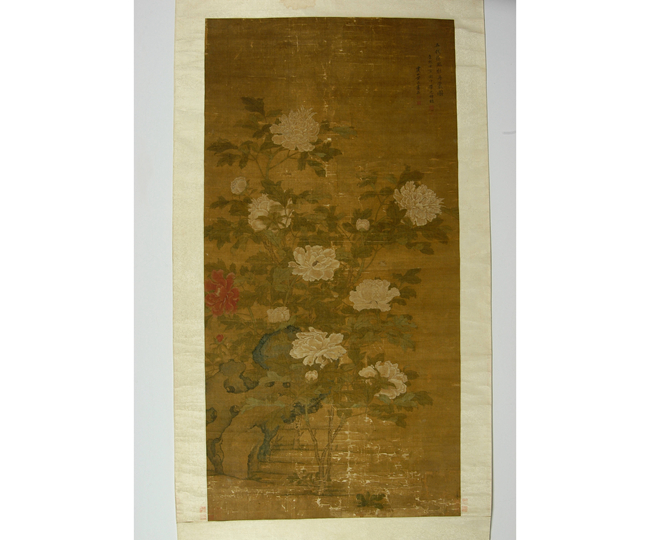 Period: Kangxi period (1662-1722)
Measurements: H.185 cm, W.93 cm
Provenance: Acquired upon Government Notice

Ink and color on silk, painted peony and rocks in Xieyi style, painter's inscription on the upper right corner, under which are three intaglio or cameo carved seals. In the painting, the colors of the peonies were elegantly executed, the inks were naturally and smoothly applied, hence the rocks, along with the peonies, exhibit a vibrant and profound state and complement each other, and they are overlapped ingeniously, blending hardness with tenderness skillfully, and creating an effect of clearness.

The inscription states that the work was done coordinately by Huang Ding and Li Zhishi of the Qing dynasty, Mr. Li painted the peonies after Xu Xi's works of the Southern Tang in the Five Dynasties period, the rocks were painted by Mr. Huang.

Huang Ding (1660-1730), a painter of Qing dynasty, was talented in painting landscapes, featuring robust brush strokes and excellent works. Li Shizhi's other works have not been found so far.