Couplet in Running Script by Liang Tongshu
Source:
Henan Museum
Edit:
acf
Time:
2023.02.01 11:16:11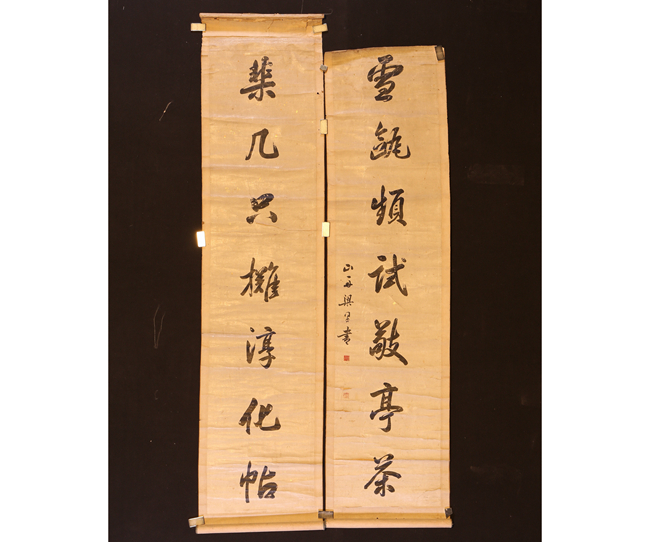 Period: Qianlong period of Qing dynasty (1711-1799)
Measurements: H.126 cm, W. 56 cm
Provenance: Previous collection

The couplet in seven-character meter on paper "The torreya table is reserved for Chunhua (classic and famed) copybook,
The (prominent) Jingting Tea is regularly served" which is from the poem "Written on the Jiang Clan' Garden for Second Time" by Wang Wan of the Qing dynasty, it expresses the artist's elegant taste and feelings of dedicating to calligraphy and tea. In the center on the left side of the column B is the artist's inscription and signature, under which is his two seals in intaglio.

Liang Toushu (1723-1815), a native of Qiantang (modern Hangzhou) of Zhejiang province, was adept at regular and running scripts. He began with Yan Zhenqing and Liu Gongquan's styles, later studied the masterworks of Su Shi and Mi Fu, and in his late years, he wrote any scripts at his will. His calligraphy was elegant and beautiful, with vibrant and robust style, hence he was as famous as other three eminent calligraphers Wong Fanggang, Liu Yong, Wang Wenzhi, they were known as the Four Masters of Qianlong Period"

In his whole life, Liang was indifferent to fame and wealth, but famed for characters of integrity and righteousness. He did not have him confined by the old masters' stereotypes, but emphasized on individualities. He devoted himself to calligraphy in his whole life, thus he left behind quite a lot of calligraphic works.