Yingqing (Bluish White) Carved Bowl
Source:
Henan Museum
Edit:
acf
Time:
2023.04.21 09:05:14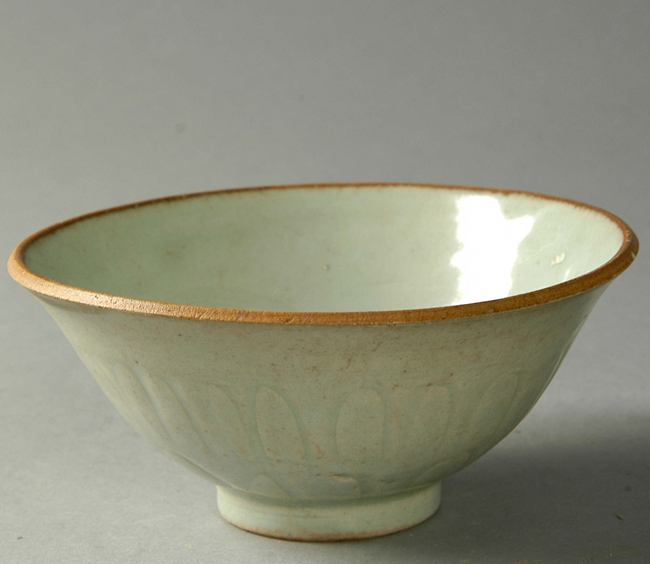 Period: Yuan dynasty (1271-1368)
Dimensions: H.6.5 cm, Dia. 14.9 cm, Base Dia. 5.8 cm
Provenance: Acquired upon the governmental notice

Apart from the rim in brown color, the bowl was glazed in bluish white, with carved foliate pattern inside, and two bands of carved lotus petal on the outside, exhibiting the aesthetics of tidiness and simplicity.

Yingqing (aka.qingbai,bluish white) porcelain, a kind of ceramics which was created exclusively at Jingdezhen in the mid-Northern Song period by imitating the tone and texture of the bluish white jade, it was characterized by the combination of the advantages of the celadon and white porcelains, with a mixed glaze color between blue and white, something like whitish blue or bluish white, and thin, light, translucent body, covered by glossy and lustrous glaze. The Yingqing porcelains of the period from the late Northern Song to the Southern Song normally featured thin walls, even as thin as sheet, with fluid and elegant carved patterns on the inner walls. However, the walls of examples from the Yuan dynasty became thicker, and the portions of the blue color in the glaze increased. Till the late Yuan dynasty, the glaze gradually deteriorated from the vitreous luster into opaque and lusterless, whereas, the shapes became more diversified, and the decorative techniques also multiplied, apart from conventional carving and drawing methods, sculpting and stamping were also frequently applied.