Longquan Celadon Lidded Jar with Peonies
Source:
Henan Museum
Edit:
acf
Time:
2023.02.28 11:14:49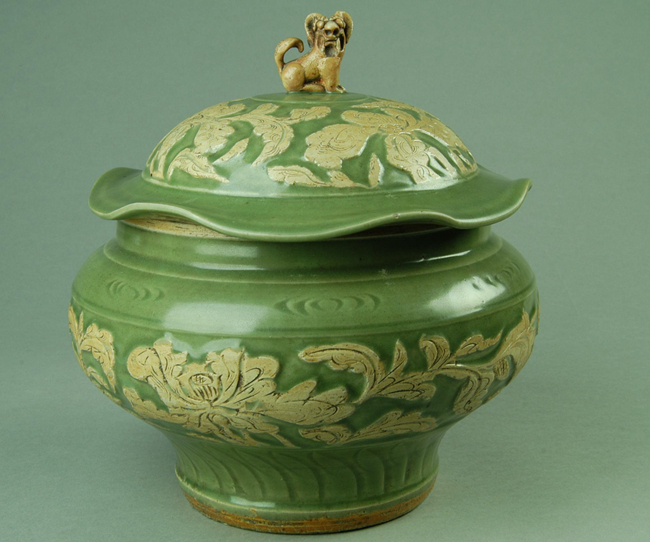 Period: Yuan dynasty(1271-1368)
Measurements: H.33 cm, Rim Dia. 25.5 cm, Foot Dia. 18 cm
Provenance: Previous collection

The vessel has a straight neck, bulging belly, and a ring foot, covered completely by green glaze; the cover and the belly were embellished with peonies, lower part with carved lotus petals. With smooth lines and prominent patterns, the peonies were well placed, implying the aesthetics of solemness and gracefulness. The cover was ingeniously crafted in the form of a lotus leaf with undulating edge, it is really realistic. Being a keen contrast with the lotus leaf-shaped cover, the beast-shaped knob serves as a final touch in the perfect match of glaze decor and plastic art.

Beginning to fire ceramics during the early Northern Song dynasty, Longquan kilns reached the zenith in the Southern Song period, and went on developing, gradually waned in Yuan dynasty. The Longquan celadon ceramics of the Yuan dynasty feature a great varieties, large size, thick body, and thinner glaze, with diverse decorative methods such as engraving, impressing, appliqueing, piercing, and stippling, etc.